While you may not actually enjoy going to the dentist, scheduling regular visits is a key aspect of maintaining good oral and dental health. As a dentist, I know that there are several factors that can improve your overall experience at the dentist's office, and finding a dentist you like and trust is perhaps the most important.
This is especially true for kids, who may suffer from childhood dental anxiety and need a pediatric dentist who can calm their fears.
Not sure how to find the best children's dentist for your child? I'm going to walk you through the entire process in this article.
With this information, along with a little research into dentists in your local area, as well as consistent, positive reinforcement, your child may begin to actually look forward to his dental visits!
IF YOU PURCHASE A PRODUCT USING A LINK BELOW, WE MAY RECEIVE A SMALL COMMISSION AT NO ADDITIONAL COST TO YOU. READ OUR AD POLICY HERE.
What's the difference between pediatric and adult dentistry?
All dentists are doctors of oral health. However, pediatric dentists earn a specialization in children's dentistry by completing an additional 2-3 years of schooling beyond the standard undergraduate degree and four years of dental school required for all dentists.
This additional training focuses on child development and the dental needs of infants and children, which distinguishes pediatric dentists from their colleagues who only see adult patients.
Some of the specific areas of focus of children's dentistry include:
Preventive and invasive oral care of children: Pediatric dentists learn how to recognize tongue thrust, tongue ties, baby bottle tooth decay, enamel hypoplasia, and other conditions that only affect children.
Developmental and growth issues, related to the mouth, jaw, face and head: Baby teeth are very different from adult teeth, and pediatric dentists must learn how to handle different eruption patterns and the many stages of oral development that infants, toddlers, and children move through.
Treatment of children under anesthesia and sedation by dental sedation services. A good pediatric dentist will emphasize the importance of nose breathing (as opposed to mouth breathing). Learning this key function won't just improve the experience of a child's dental visit, but it will also improve sleep and overall health.
Treatment of medically compromised and special needs children, including focus on child psychology: Children with special needs require special dental care, and a pediatric dentist can work with parents to ensure that their child establishes the proper foundation for long-term oral and dental health.
Pediatric dentistry focuses on treatment of babies in the beginning stages of tooth formation, all the way through adolescence. Once a teen has reached 18 years old, the pediatric dentist is required to refer the patient to an practice of general dentistry.
Get Dr. B's Dental Health Tips
Free weekly dental health advice in your inbox, plus 10 Insider Secrets to Dental Care as a free download when you sign up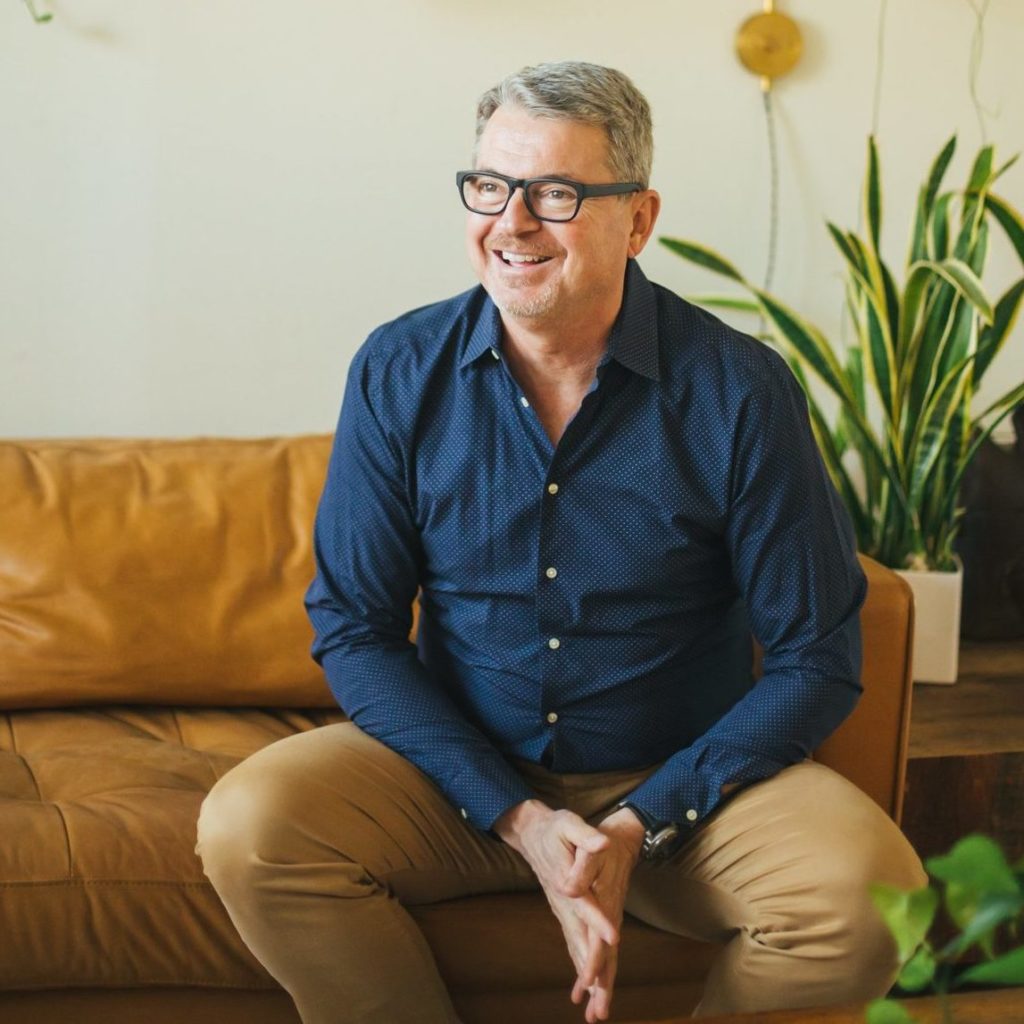 How do I find a pediatric dentist I can trust?
Ready to find a pediatric dentist for your child? Here are my best recommendations.
Ask other parents for recommendations
Probably the greatest suggestion I can offer parents looking for a good pediatric dentist is to turn to word-of-mouth recommendations.
Seeking the advice of other parents and asking questions about the comfort of the office and the overall atmosphere can give you a behind-the-scenes glimpse of a dental practice that a phone call or website visit may not reveal.
The best recommendations will come from parents who have seen their children interact with the actual dentist, as opposed to just the hygienists who perform the cleanings. Typically, these parents or guardians will have children who have required additional services or procedures, including fillings. In my experience, they will be the most honest and forthcoming in their critiques of the dental office.
Check online reviews
Sites such as Yelp may be a good source of reviews and other insider information about a pediatric dentist, but I must warn you: Don't entrust your child's oral care to someone who pays for favorable reviews, or who uses manipulation tactics to drum up business.
Be safe and look for one-on-one, unbiased advice! And if a reviewer leaves an email address or other contact information with his review, don't be afraid to reach out to get his honest opinion.
Visit your local dental school
Another great tip for finding a pediatric dentist is to ask staffers at a local dental school who they recommend. Dental school staffers will likely have their finger on the pulse of newly practicing dentists who are thoughtful, skillful, and still building a clientele.
I will also note that, in addition to asking for referrals, you should seriously consider taking your child to have services completed at the school. Now, I understand that you may be leery of having your child seen by a student or intern, but keep in mind that the student caring for your child is being supervised—thoughtfully, carefully, and with intent to not only provide the greatest treatment possible, but also to train and bring a favorable reputation to the school.
Additionally, pediatric clinics and dental schools are usually smaller and offer a warmer, more intimate setting. This can be especially beneficial for a child who has special needs or difficult oral issues to tackle.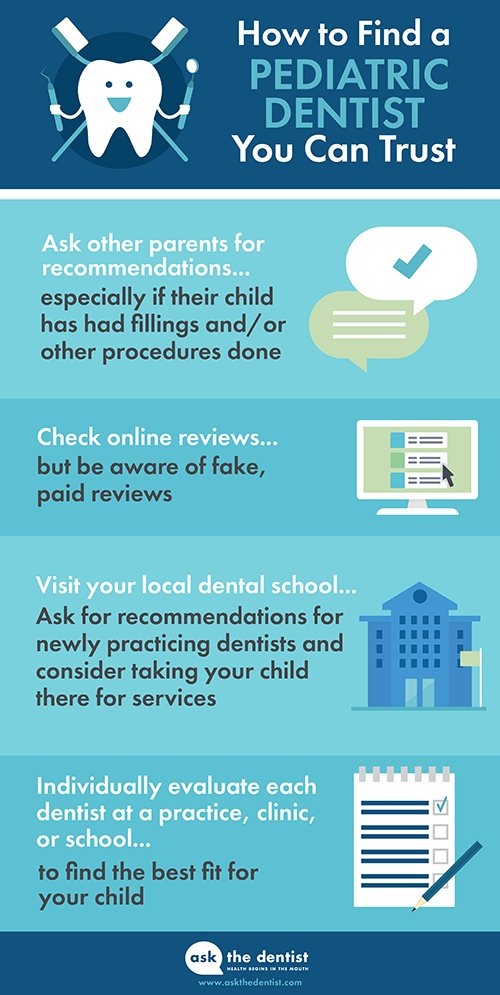 Individually evaluate each dentist at a practice, clinic, or school
After choosing a pediatric dental practice, clinic, or school to take your child to, you may have the opportunity to choose among several dentists. It's important to take this process seriously, because even at a good practice, one dentist may be a better fit for your child than another.
I will say that older dentists may not automatically provide the kind, grandfatherly experience you'd expect. If they've been in dentistry for a long time, the practice could could be growing stale for them. On the other hand, a young dentist with several children may be the perfect fit, as he may have a firmer grasp on issues facing kids and the most up-to-date ways to deal with them.
Before making any decision, however, I cannot say enough about the results of one-to-one communication with the staff of the office, school, or clinic you will be visiting. Invest the time to call and ask questions, including, How long has the dentist been in practice? And, Does the dentist have children? If so, what is their age range?
Bottom line: You are giving someone the authority to examine your child's mouth, and this dentist may end up drilling, filing, prodding, or pulling your son or daughter's teeth. With all that at stake, I don't believe you could call too many offices or over-research the topic of children's dentistry.
[callout-quiz banner="Find a Functional Dentist" button_link="https://askthedentist.com/directory" button_text="Search Your Area"]
Search the Functional Dentist Locator
Our database of functional providers includes dentists, hygienists, and myofunctional therapists, in over 50 areas around the world and growing.[/callout-quiz]
How often should my child go to the dentist?
I am often asked how frequently a child should visit the dentist, and my answer is simple: As often as you can afford!
Even if you've done a good job making your child love brushing, it's likely that he won't be great at it (though an electric toothbrush for kids can help clean hard-to-reach places). Meanwhile, older children may have those braces they thought would be cool, but now that the novelty has worn off, the diligent care and treatment they once exhibited may have worn off, too.
Then, of course, there's the subject of the poor diet that so many children are eating. Diet is the number one factor impacting the health of your child's teeth and his oral microbiome, and sweets, sodas, and processed carbs aren't doing him any favors.
I say all of that to say: Children aren't great at taking care of their teeth, but regular trips to the dentist can help to fill in some of those gap.
The minimum frequency to consider for dental visits is at least once every 6 months. And this schedule won't just help keep your child's teeth clean and free of decay. With each visit, your child will become more and more accustomed to—and comfortable with—the office, the staff, and, most importantly, the dentist.
The sooner your child is at peace with his trips to the dentist's office, the sooner you will be at peace–and the more likely your child will enjoy visiting the dentist for years to come.
The reasons I just touched on are the prime motivators for you to begin taking your little one to the dentist from an early age. I recommend that you schedule your child's first dentist appointment by his first birthday, at the latest.
Some general dentists don't recommend visiting the dentist until the child is at least 3. However, the younger a child is at his first dental visit—even if he's accompanying you to your appointment—the quicker he will become comfortable in the chair.
This is vital particularly important if your child has exhibited early dental issues, including gum disease, high cavity rate, or dry mouth caused by mouth breathing,
What's the best way to make my child feel comfortable at the dentist?
While it's important to get your child to the dentist early and often, this is obviously better accomplished if your child feels comfortable at the dentist's office. Choosing the right dentist has a lot to do with that, but as a parent, there are other things you can do to put your child at ease.
Let him know that the appointment is coming up: Don't wait until the day before the visit to tell your child that he has an appointment. Children react better when they are given time to mentally prepare.
Read dental-related kids' books to put your child at ease: Check out the library or the Internet for resources that will help calm and even excite your child about taking care of his teeth and mouth.
My Pick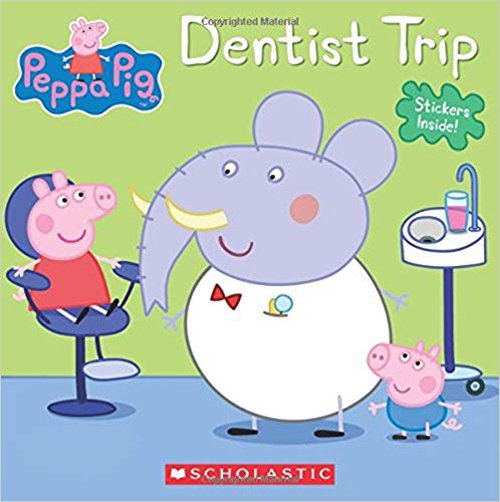 Dentist Trip (Peppa Pig)
Listen to his comments, questions, and concerns: Try to be as forthcoming as you can if your child expresses any worry about the appointment.
Try deep breathing techniques: Encourage your child to breathe slowly and deeply in order to calm their mind and body. This process works before and during the visit.
Emphasize the positive aspects of proper dental care: A childhood filled with quality, consistent dental care will provide a great foundation for your child's ongoing dental health. Not only will it form good habits, but it will prevent the more serious issues he could have as an adult.
Role play through a dental visit: You won't have all the supplies, but you can have fun going through some of the possible steps that will occur during a routine visit while having fun pretending with your child.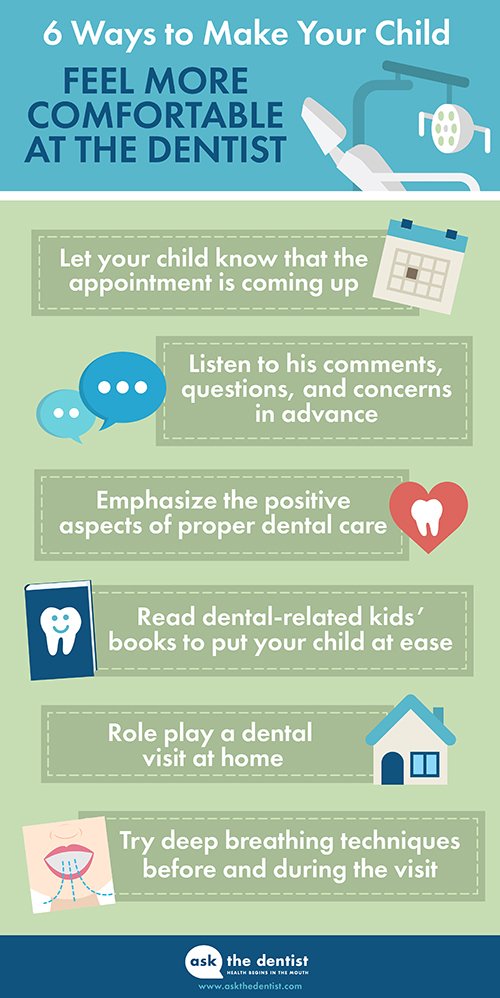 Clear Signs That Your Child's Dentist Isn't the Best Fit
The first and most obvious red flag that a particular dentist or dental practice may not be right for your child is the simplest one: Your child generally hates being there.
There's a difference between the normal level of nerves that accompanies any dental visit versus an uncomfortable feeling with the office as a whole. And the latter is a sure sign that it's time to find a new school.
Children have great gut instincts. If he leaves the office unhappy or refuses to listen to any recommendations about brushing, flossing, etc., pay attention. Children don't normally act that way, and those non-verbal actions and reactions that occur after the visit is over can be the most useful when considering a new dentist.
Have an honest, open conversation with your child upon leaving the office. Statements such as, "The needle stick was no fun," or "They shouldn't have had to poke around my mouth or tap on my teeth so much," can be considered normal complaints about the dentist.
You can typically reason with a child in situations like those ("Well, that momentary sting from an injection was better than having to get a cavity filled"), but comments about the dentist himself, or the dental office, should be carefully heeded
Lastly, pay attention to your own perceptions. With some careful focus, you can make some worthwhile observations as well. Pay attention to whether the staff worked to put your mind at ease during the visit and whether the dentist, assistant, or hygienist come out to speak with you. If these things didn't happen, it may be time to move on.
What do I do if I disagree with the dentist's recommendations?
If, at any time, you see significant changes in your child's oral health—like a sudden increase in cavities, especially in baby teeth that come out between 8 and 10 years old—don't be afraid to seek a second opinion. Request x-rays and a copy of your child's dental plan from the dentist and staff and let them know you are planning to get advice from another dentist.
If a dentist responds negatively or immaturely about your questions, or your desires to have another dentist examine your child and make treatment recommendations, I would seriously suggest leaving that practice.
Even when you think you've chosen the right dentist, no decision should be considered permanent. You have a right to change your mind.
Remember, one mouth and one set of permanent teeth is all we get. Isn't it worth it, then, to be sure your child is treated by the best set of circumstances you can possibly gather?
Conclusion
Hopefully, you've come to the end of this article feeling encouraged and equipped! After all, part of loving our sweet children is caring for them both physically and emotionally.
Fostering an atmosphere of good, regular dental checkups with the right dentist hits both of those targets. And when your little one is not so little anymore, he will thank you for providing the tools and encouragement to keep his smile bright for the rest of his life!
Learn More:

How to Find a Good Dentist: 7 Tips + 10 FAQs