When teething is making your baby fussy, cranky, and unwilling to nap or feed, your goal as a parent is to provide relief. Yet conventional teething remedies can be toxic or cause choking and should be avoided. The good news is that there are some all-natural teething remedies that can safely—and effectively—soothe baby's aching gums.
Not all babies experience the same teething symptoms; I've raised three daughters and the process was different for each of them. But the most important thing to remember in all cases is that teething is a natural, and important, part of your baby's development.
Teething prepares the mouth and jaw for further development and the eruption of teeth. So supporting this process—even as you ease baby's discomfort—is critical.
This post will highlight the safest and most effective natural teething remedies, while also outlining a common teething schedule and typical symptoms, so you know what to look for each step of the way.
What is teething?
Babies are born with an entire set of teeth sitting just below the gumline, and teething occurs when those teeth begin pushing through the gum tissue. While some babies seem to sprout teeth overnight with little fuss or commotion, many parents report that their children become irritable as the teeth literally cut through the gums.
Get Dr. B's Dental Health Tips
Free weekly dental health advice in your inbox, plus 10 Insider Secrets to Dental Care as a free download when you sign up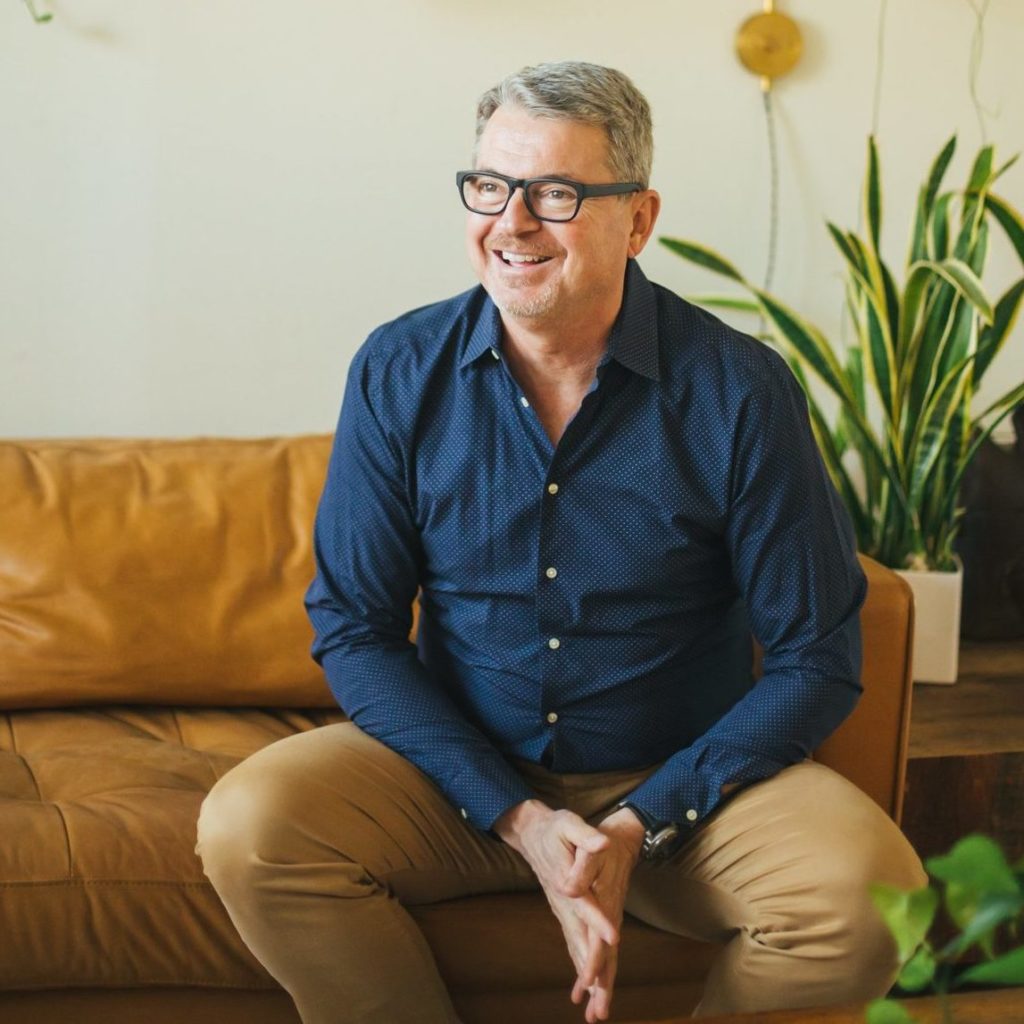 Baby Teething Schedule
Every baby is unique and his teeth will appear in their own time, typically beginning around the six-month mark and culminating around his third birthday. Some babies may even be born with already-erupted teeth, though it's rare.
Here's a look at the average ages when baby teeth appear.
3-6 months: Your baby may start to show the earliest symptoms of teething, including swollen, tender gums, and fussiness
6-12 months: This is the average age when baby's front teeth appear. Because these teeth have a sharp edge and cut through the gums more easily, they tend to appear without much trouble.
12-22 months: This is the average age baby's first molars and canine teeth appear. Erupting molars are often significantly more painful than front or canine teeth because they have a flat, wide surface as opposed to a sharp edge. Molar eruption can even cause bleeding in some children.
22-33 months: This is the average age when baby's second molars appear. Like first molars, these can be especially painful.
Common Teething Symptoms
While every child is different, there are some common symptoms that may indicate that your baby is cutting his first teeth. They include:
Swollen, tender gums
Increased crying and a grumpy temperament due to discomfort
A slight fever (less than 101 F)
Gnawing or wanting to chew on hard things (which can help relieve some of the pain of teething and encourage the tooth to break through)
Lots of drool
Changes in eating or sleeping patterns
Watching your child experience any of these symptoms can be difficult, especially because you want nothing more than to ease his pain and discomfort as quickly as possible. But I want to stress, again, that teething is a natural and necessary part of baby's oral development. And as long as symptoms remain mild and short-lived (a fews days up to a couple weeks for each new tooth), you shouldn't have anything to worry about.
That said, not all symptoms that babies experience while erupting new teeth should be blamed on teething. Particularly high fevers, for example, are unlikely to be a symptom of teething and may point to a more serious issue. (1)
If your child experiences any of the following, even if h is teething, you should address your concerns with his doctor:
Rashes
Diarrhea
Vomiting
Cough
Congestion
High fever
How to Know if Your Baby is Teething
While there isn't a foolproof way to know whether your baby is teething, considering his age and symptoms should give you a good idea. Your baby's doctor or dentist may also be able to help confirm that your baby is teething, especially if his first few teeth have already erupted.
Beyond making an educated assumption, you can use a clean finger to gently massage your baby's gums and feel for any hard spots that might be the top of a tooth that is trying to push through.
The Problem with Conventional Teething Remedies
There are many teething remedies on the market, from creams to rings, but some are known to be problematic.
Numbing creams and pastes are not recommended because, not only are they ineffective, but the active ingredient they contain (typically benzocaine or lidocaine) can be harmful to children. The FDA has warned against these products, stating that they can lower the amount of oxygen in the blood of babies. (2)
Homeopathic chews and pastes may seem like a better option, but those that contain the ingredient belladonna (like the popular Hyland's Teething Tablets) should be avoided as well. Belladonna, also known as Deadly Nightshade, can be toxic, and there have been multiple reports of adverse reactions. The FDA has subsequently warned against its use. (3)
While frozen teething rings can provide relief to baby's gums due to their hard surface, they can also be dangerous. A frozen ring can cause frostbite if applied directly to the gums or lips, and they're so hard that they may cause bruising.
But simply keeping plastic teethers out of the freezer isn't the best solution, either. That's because plastic rings can contain BPA and other toxic chemicals that may be ingested by baby.
Liquid-filled rings should also be avoided, as baby's chewing may cause them to break open. In the past, these rings have been recalled when the liquid contained in them was found to have bacterial contamination. (4)
Finally, while amber bracelets and necklaces have become a popular, toxin-free alternative to teething creams, these objects can quickly become dangerous. If a piece of the jewelry breaks off in baby's mouth it can cause choking, and necklaces can cause strangulation. As a result, the American Academy of Pediatrics recommends that babies don't wear jewelry at all. (5)
The Best All Natural Teething Remedies
Avoiding potentially dangerous teething remedies doesn't mean your baby has to suffer while his teeth come in. Here's a look at natural teething remedies that are completely safe and effective, too.
Massage
One of the best ways to provide relief for teething is to gently massage your baby's gums with clean hands.
Chamomile
Chamomile is a mild sedative that is safe for children and can ease fussiness and irritability. (6) Some parents have found success with Camilia chewing tablets, which contain chamomile. Or you can simply freeze chamomile tea into popsicle form for baby, or soak a cloth in cold chamomile tea and give it to him to chew on.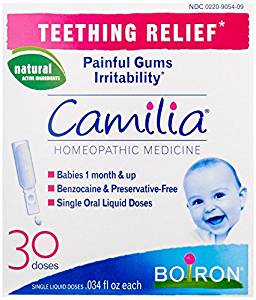 Boiron Camilia Chewing Tablets
Teething gloves
Teething gloves are mitts that go on your baby's hands and are covered in a durable material, (usually silicone) for baby to chew on. The Munch Mitt and the Nuby are the two most popular brands.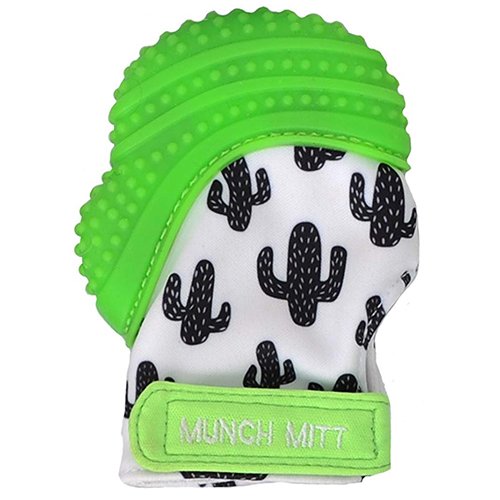 Munch Mitt Teething Mitten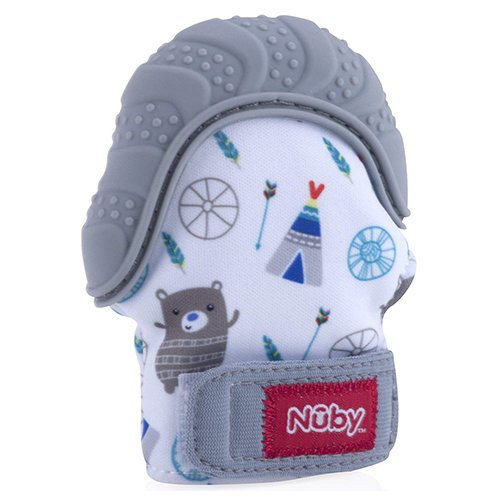 Nuby Teething Mitten
Wooden teether
As mentioned, plastic teethers may be made from or filled with toxic chemicals, but wooden teethers are all-natural and relatively risk-free. They're also hard enough to provide relief while encourage proper chewing and oral development, but without the issues that arise with frozen teething rings.
My granddaughter loves this wooden rattle by Homi Baby. It's small enough for her to grab and is also sealed with organic virgin coconut oil, which is safe for babies.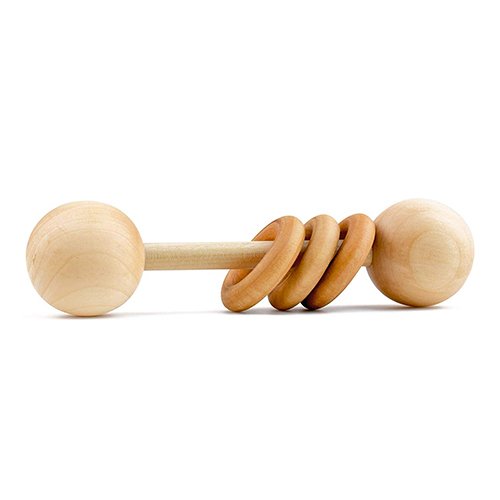 Homi Baby Wood Rattle
Mesh feeders
Cooled (but not frozen) foods in a mesh feeder can give your baby something to munch on that will also soothe his gums. Filling mesh feeders with apples, grapes, or other fruits and vegetables is also a great alternative to teething biscuits that are processed, high-carb, and full of added sugars. Just be not to leave baby unattended while eating.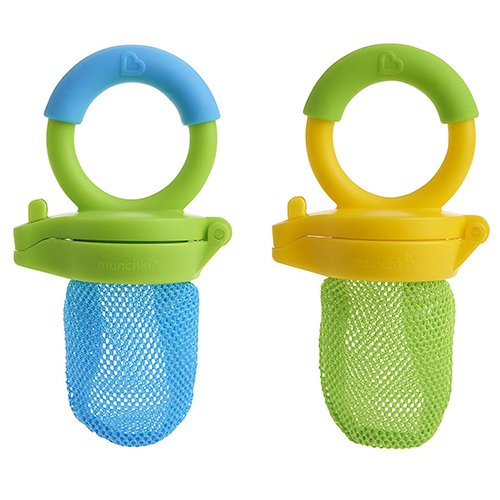 Munchkin Fresh Mesh Food Feeder
A refrigerated damp washcloth
Letting baby chew on a cool, clean, and damp washcloth is one of the easiest ways to provide relief.
DIY popsicles
Finally, my recipe for gum-soothing turmeric popsicles is perfect for a teething baby. The cold of the popsicles helps to soothe gums while the turmeric provides anti-inflammatory benefits, which can help reduce swelling.
---
Print
Turmeric Popsicles for Gums
Turmeric does stain, but if you can handle the mess, these popsicles are a great way to soothe baby's sore gums. And with only 8 grams of natural sugar from the bananas—which are good for baby's gut and microbiome and zero added sugar—you can trust that they're healthy, too!
Author:
Prep Time:

5 minutes

Cook Time:

65 minutes

Total Time:

1 hour 10 minutes

Yield: Makes

7

-

8

popsicles

1

x
4

pcs. Ripe Bananas

1/2 teaspoon

Turmeric

1/8 teaspoon

Ginger

1/8 teaspoon

Cinnamon (optional)

1/2 cup

Coconut Water
Instructions
Add all the ingredients to a high-speed blender, blending until well-combined.
Evenly distribute into popsicle molds. Freeze until ready to use, or at least 1 hour.
Thaw for 5 minutes before serving.
---
Conclusion
Teething can be a trying time for both babies and adults, but your baby's smile will be worth it. Try some of the natural teething remedies mentioned here, like wooden teethers and mesh feeders, to soothe baby's discomfort. And never underestimate the power of distraction. Taking my granddaughter for a walk is often the best way to take her mind off of teething pain.
Once baby's first tooth comes in, be sure to make an appointment for his first trip to the dentist. It's important to care for baby teeth as diligently as we do adult teeth to ensure proper oral and dental development and to avoid conditions like baby bottle tooth decay.
Learn More:

Pediatric Dentistry: How to Find the Best Dentist for Your Child