As if brushing your baby's teeth isn't hard enough, there's a myriad of baby and toddler toothpastes to choose from. But what's the best baby toothpaste?
I was reminded of this fact after my daughter asked for help picking a baby toothpaste for my 14-month old granddaughter.
Here's how the conversation went…
Catharine: What kind of toothpaste can I use for my baby?
Me: Skip it.
Yes, that's right! You can go ahead and skip using toothpaste altogether if you want.
I find that using baby toothpaste under age two can sometimes be more mess and difficulty than its worth. The important thing is that you're brushing.
Toothpaste isn't actually essential to protecting teeth or improving dental health—brushing and flossing are.
It's just the polishing agent—the physical motion of the brush disorganizes biofilm and prevents plaque. And that's why brushing can make a major difference in cavity prevention.
(If you're interested, this is the best baby toothbrush for babies two and under.)
But, with that said, the best baby toothpaste can still achieve many things. It's just best to introduce it when your child's brushing habit is a normal, happy event.
If you're looking for which baby toothpaste to buy for your child under age two, in this article, I list out my favorites. I'll also explain what parents need to know when choosing a toothpaste, specifically for toddlers and babies under age two.
Here's everything you should know about what to do for your child's teeth between about 6-24 months.
Why do babies need special toothpaste?
Babies and toddlers should not use regular toothpaste.
Children don't develop the ability to spit until around age three, meaning they ingest whatever chemicals are in the toothpaste.
Many adult toothpaste brands, and unfortunately, some kids' toothpaste, including the ones branded as "all-natural," contain ingredients that are actually harmful to oral health. That's why I don't suggest buying the first child's Crest toothpaste you see at the drugstore.
This shady toothpaste marketing can make it difficult to know that what you're using to brush your little ones' teeth is totally safe.
So, is toothpaste safe for babies?
It can be! While there are a few ingredients to avoid in baby's toothpaste, there are plenty of safe, natural toothpastes for kids. The best baby toothpaste won't use fluoride, SLS, or most essential oils.
Get Dr. B's Dental Health Tips
Free weekly dental health advice in your inbox, plus 10 Insider Secrets to Dental Care as a free download when you sign up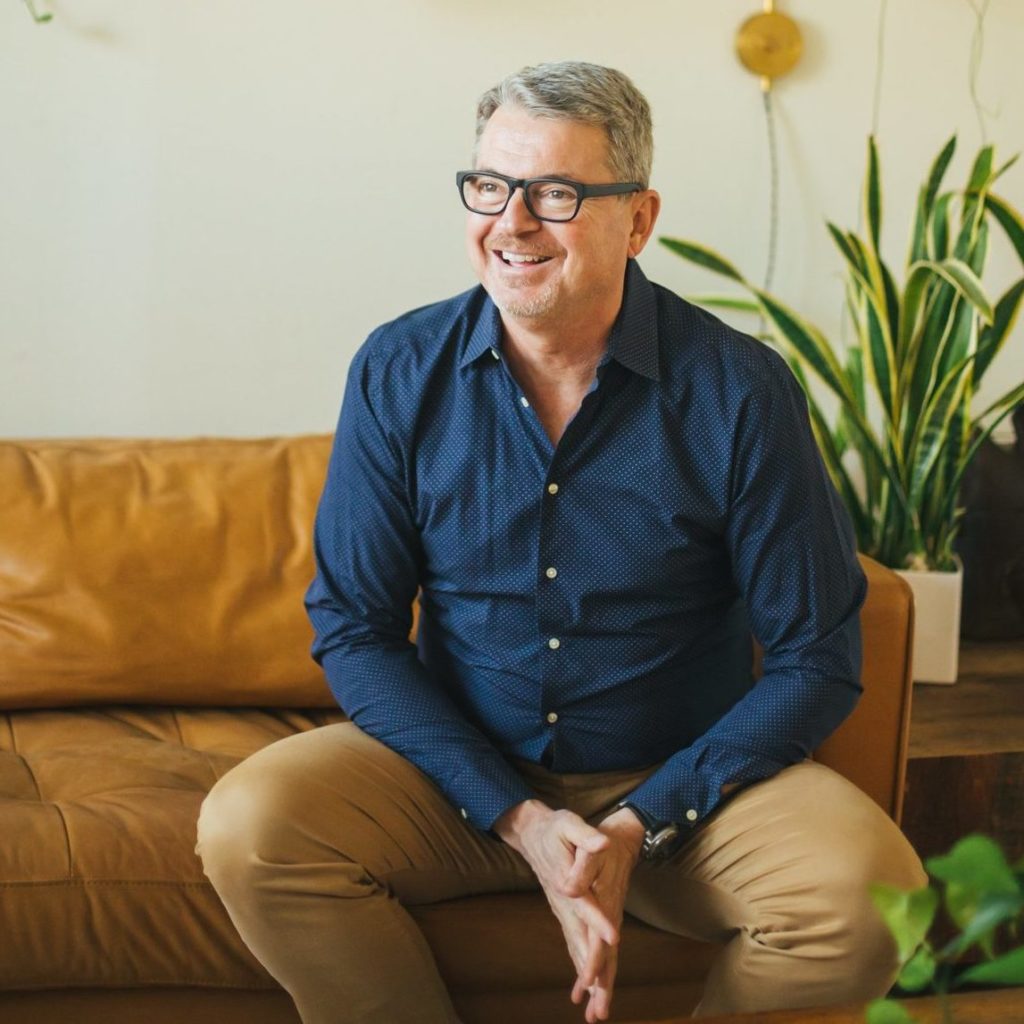 Ingredients to Avoid in Toothpaste for Kids
1. Fluoride
Whatever toothpaste you decide on for your toddler, make sure it's fluoride-free.
Is fluoride bad for you?
For children, it definitely is.
Many people think that fluoride toothpaste is necessary to prevent cavities. However, there are other ways to accomplish this that don't carry the risk of a neurotoxin and fluorosis.
When fluoride is swallowed, it is toxic. And even if your baby or toddler is exposed to small doses, there's evidence that it is toxic to the developing human brain.
The Harvard School of Public Health reported that fluoride in water "adversely affect[s] cognitive development in children," causing as much as a 7-point lower IQ. This is based largely on two studies published 2012 and 2017.
If you and your dentist do decide to give your child fluoride, I recommend you keep track of where your child is getting fluoride and how much.
Fluoride exists in not just tap water, but also bottled water, fish and seafood, cereals, infant formula, and even teflon pans. The stuff is everywhere, and I have seen multiple cases of fluorosis in children even when using toothpaste without fluoride.
2. SLS
A very common ingredient in toothpaste is sodium lauryl sulfate (SLS), also sometimes listed as sodium laureth sulphate. This is a strong detergent that has demonstrated in several studies to increase canker sore outbreaks.
There's really no reason to expose a baby's delicate and developing oral environment to harsh detergents like SLS. Plus, all my recommendations below are SLS free toothpaste.
3. Essential Oils
Essential oils are commonly found in "all-natural" toothpastes as an antibacterial agent.
The problem? Most essential oils are antibacterial, and babies actually need to build their oral microbiome to prevent cavities, not kill it off.
If you decide to DIY your child's toothpaste, leave out the essential oils. You may also want to use one that's not bactericidal, such as anise (which you'll find in my Kid's DIY Toothpaste recipe).
When should I start brushing my baby's teeth?
Every time you or your child eat or drink, oral bacteria get a snack, too. Those foods get broken down and the bacteria feast on the sugars.
Just like humans, after bacteria have a meal, they have to "go to the bathroom"—they poop and pee!
The acid excreted by bacteria after they consume sugars is their waste product. It's the same stuff that leads to bad breath, tooth decay, destruction of enamel, and cavities.
If you don't remove plaque within the first 48 hours, it starts to harden and calcify. This hardened plaque is called tartar and it's impossible to move with a toothbrush and floss.
The good news is, you don't need toothpaste to disorganize bacteria and plaque. Whether you're a child or an adult, a simple toothbrush with the right technique will do the job.
The Best Baby Toothpaste for Kids Under 2
As a dentist, my main concerns for kids under two are these:
First, are their teeth are getting brushed?
Second, are they exposed to any of the toxic chemicals found in most toothpastes?
The EWG rates sunscreen safety to children on a scale of 0 to 10, where anything with a score from zero to two is considered to have a very low hazard. I've attempted to do the same thing here.
Is there a baby toothpaste you're curious about that I missed in the list below? Let me know, and I'll see about adding it.
Here are the best natural toothpastes for kids. These are the best toothpastes for kids between 6-24 months of age (basically, when teeth first come in and through age 1).
1. Jack N' Jill Natural Toothpaste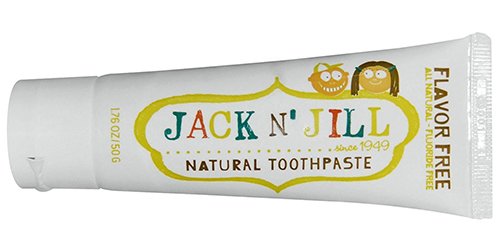 Jack n' Jill Natural Toothpaste
Ingredients: Xylitol, Purified Water, Vegetable Glycerin (Coconut derived), Silica, Xanthan Gum, Potassium Sorbate (Naturally derived), Citric Acid
Flavors: Unflavored is my first choice, but, hey, if you need a little flavor to motivate your kid, go right ahead!
2. Hello Toddler Training Toothpaste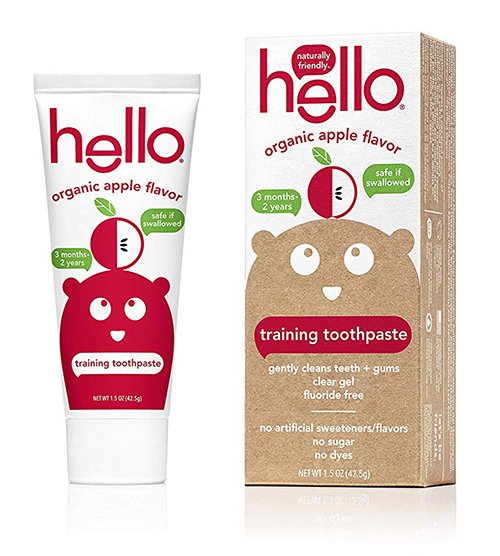 Hello Toddler Training Toothpaste
Ingredients: vegetable glycerin, sorbitol, purified water, aloe vera gel, hydrated silica, xylitol, erythritol, xanthan gum, flavor, calcium glycerophosphate (mineral), potassium sorbate and stevia rebaudiana leaf extract (sweetener).
Flavors: Organic Apple, Bubble Gum, Blue Raspberry, Natural Watermelon, Wild Strawberry
3. Dr. Brown's natural baby toothpaste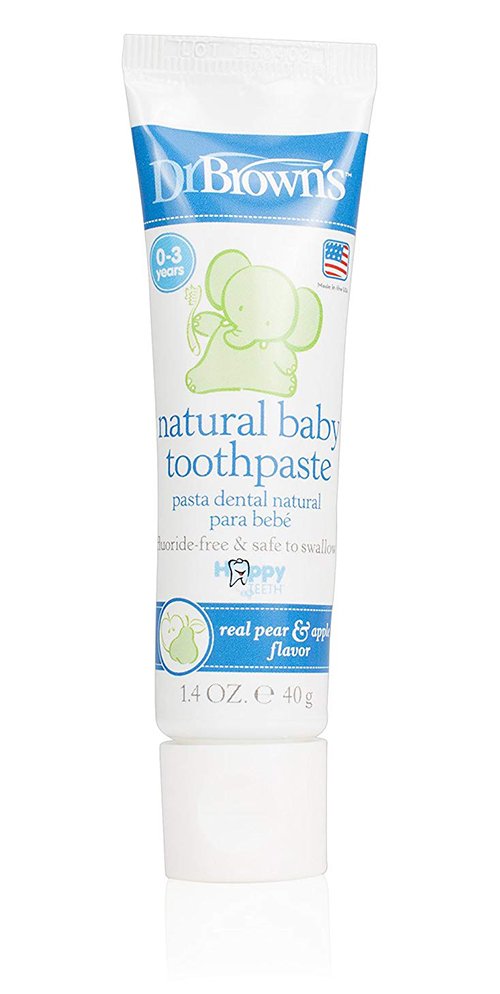 Dr. Brown's Natural Baby Toothpaste
Ingredients: Glycerin, Aqua (Water), Xylitol, Propanediol, Sorbitol, Pectin, Xanthum Gum, Silica, Sorbic Acid, Aroma (Flavor), Calcium Lactate
Flavors: Real Pear or Real Apple
4. Babyganics Fluoride Free Toothpaste, Strawberry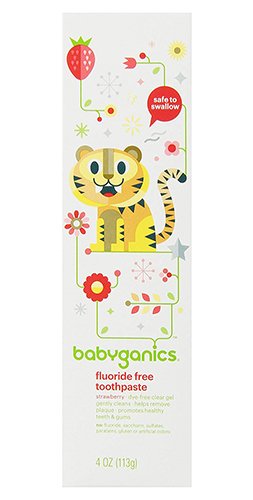 Babyganics Toothpaste
Ingredients: Purified Water, Carboxymethyl Cellulose, Xylitol, Sodium Citrate, Citric Acid, Flavor, Potassium Sorbate, Stevia
Flavors: Strawberry and Watermelon
5. Earth's Best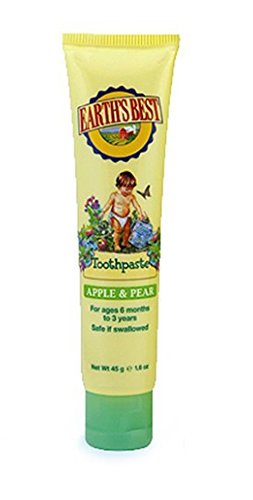 Earth's Best Toothpaste
Ingredients: Glycerin, aqua (water), xylitol, panthenol, cellulose gum, avena sativa (oat) bran, beta-glucan, calcium lactate, flavor.
Flavors: Apple & Pear
6. RiseWell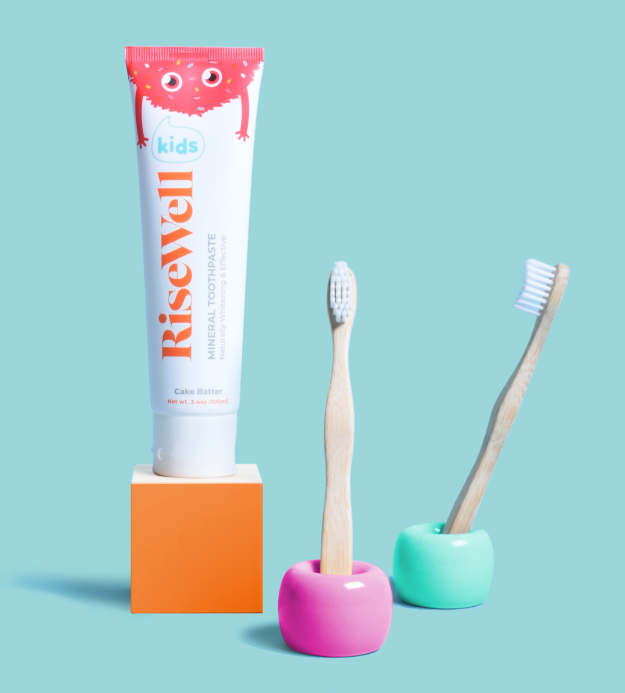 RiseWell Kids' Toothpaste
Concerned about cavities? RiseWell uses hydroxyapatite, which makes up a huge percentage of natural tooth structure, to support remineralization. Plus, it's non-toxic!
Ingredients: Silica, Sorbitol, Glycerin, Xylitol, Hydroxyapatite, Calcium Carbonate, Propanediol, Vanilla Planifolia Fruit Extract, Potassium Cocoate, Stevia Rebaudiana Extract, Erythritol, Echinacea Purpurea Extract, Cellulose Gum, Gluconate, Xanthan Gum
Flavor: Birthday Cake
How should I start brushing my baby's teeth?
When baby teeth first erupt, it can be difficult to know how to start the process of brushing.
Here's what I tell my patients (and daughter!):
A gentle wipe with a damp washcloth is just as effective as brushing while your baby is still breastfeeding or only drinking formula.
While you can definitely begin using a specialty baby toothbrush to introduce them to the habit, a cloth is great. I recommend brushing or wiping teeth gently after each feeding, especially because breastmilk and formula are high in sugar content.
This simple practice will help you prevent baby bottle tooth decay.
Another important note: Babies have a sensitive gag reflex, and if brushing makes them gag, it'll make the experience a bad one.
To avoid the gag reflex, never brush your baby's teeth while they're lying down.
Other things to remember when you start baby brushing: Keep it fun, and make it a very consistent habit.
If I don't use fluoride toothpaste with my kids, won't they get cavities?
I raised three daughters, all cavity-free, without fluoride.
Did you know that the decline in cavities seen when countries fluoridate water is almost identical to similar countries who have never practiced public water fluoridation?
Plus, the Cochrane Center reviewed water fluoridation in 2015 and found the improvement for cavities was minimal.
Cochrane reviews are known for being some of the most thorough reports about scientific results. For adults, they discovered water in fluoride had no effect on cavities whatsoever.
They also admit that the lack of high-quality studies performed in the last 45 years or so is very concerning, based on the extent of water fluoridation in many countries.
If you want to read more about my thoughts on fluoride, click here.
And I have good news!
There are other ways to ensure your baby grows up to have strong teeth, and without the risk of fluorosis and brain toxicity.
Below are my recommendations for ensuring strong teeth in babies and toddlers, in order of priority:
1. Cod Liver Oil
First, I suggest cod liver oil as soon as you start introducing solids to your child. Cod liver oil is one of the richest sources of A, D, and K2. This trio of nutrients work synergistically to prevent and even reverse small pre-existing cavities.
My favorite brand is Carlson's Wild Norwegian.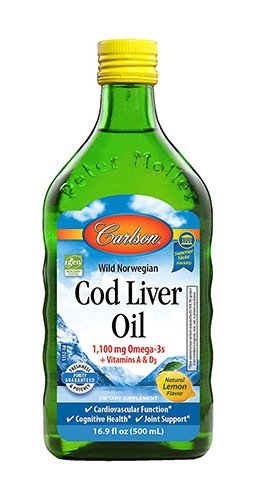 Carlson's Wild Norwegian Cod Liver Oil
And since this post was inspired by my granddaughter, I couldn't let it pass without showing you how beautiful she is! (And how happy she is to get her cod liver oil)
2. Infant Probiotic
Second, use a probiotic formula specifically formulated for infants. These can be mixed into formula, pumped breastmilk, or food.
A probiotic is especially important for infants born via C-section, who were not exposed to vaginal bacteria at birth.
Generally, that's when the mother's rich microbiome is passed to the newborn, so it's a good idea to take extra precautions when this doesn't happen.
Other factors that can make a probiotic more vital for babies are antibiotic use (by mother or newborn) and use of formula.
To be clear: there's no shame here. Not every mom chooses to breastfeed, and C-sections and antibiotics are a part of modern life. I just want you to be as informed as possible about how to support the health of your baby.
3. Vitamin D and Vitamin K2 Drops
Last, give your child a Vitamin D and K2 supplement, which can be added to formula, pumped breastmilk, or food. This can be started on day one.
To read more about how Vitamin K2 promotes proper jaw and facial growth as well as strong teeth, read this.
Final Thoughts on the Best Baby Toothpaste
So, to sum it up:
When reading the ingredients, watch out for fluoride, SLS, and most essential oils—and just say no!
Supplement with cod liver oil, a baby probiotic, and Vitamin K2/D, which will work together to give your child an excellent oral health foundation. They'll work all day and night to prevent cavities—especially important if you skip a night (or two, or three) of brushing. (Hey, you're the parent of a new baby—it happens.)
Skip toothpaste if that feels right for your family and your child, and don't feel one bit guilty—the important thing is that you're brushing at all.
Always keep it fun and positive, and don't worry if your child isn't the best brusher just yet. Your basic goal should be to ensure s/he has a positive association with dental care. Do a little dance, or better yet, show them how much fun the adults have when they brush their teeth!
And again, my pick for the best baby toothpaste is Jack N' Jill Natural Toothpaste.
Dr. Mark Burhenne
Learn More:

8 Simple Tricks for Brushing Your Child's Teeth