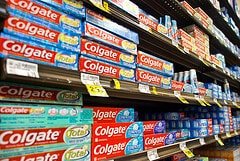 Question: I'm a diabetic and would like to know your views on any toothpaste that you feel is best for people that have diabetes. Answer: Fortunately, toothpaste would have no real effect on diabetes directly. The most important thing is to prevent having gum disease, which would have huge implications in conjunction with your diabetes.
If you have gum disease as a diabetic, your blood sugar levels are harder to control.
Conversely, having diabetes makes you more predisposed to getting gum disease.
As I'm sure you're already aware, keeping your diabetes well-controlled will be critical in minimizing your risk of gum disease, which, as we just established, will make your diabetes harder to control. It's kind of a vicious cycle, isn't it?
Brushing and toothpaste will be the least important factors for you – flossing will be absolutely imperative. My advice for you is to see your dental hygienist and make sure you're flossing correctly and often enough.
Mark Burhenne DDS