My patient — let's call her Kim — came into the office with a problem: She was getting cavities all of a sudden. She had been my patient for over 20 years and never had a cavity before, but she was coming in for several fillings.
At the end of this post, I'll share my strategies for how to find out why you're getting cavities all of a sudden. But before we get into it, I want to share one piece of information that should be your #1 takeaway from this blog post:
If you're getting cavities all of a sudden, find out the root cause. Getting a filling should be step one; step two should be finding out why you're getting cavities all of a sudden so that you don't get more. Prevention is always the best cure.
When someone who didn't get many cavities before starts getting cavities all of a sudden, it's almost always something environmental that has changed that's causing the sudden increase. So, I asked Kim to walk me through her day-to-day. What was different? Something had to have changed in either her lifestyle or her diet.
She racked her brain and couldn't think of anything. I asked her about some of the most common causes of sudden cavities. Was she adding more sugar to her coffee? Was she sipping on Coke while staying up late studying? (She was in nursing school). Had she been sick recently and using cough drops? (These can be very high in sugar.)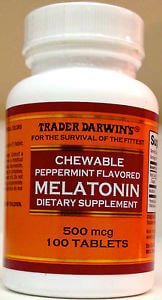 Finally, we figured it out.
"You know what, there is one thing I'm doing differently!" she said. "I've been using melatonin tablets right before bed, after I brush my teeth."
Bingo. After she brushed her teeth. We looked at the ingredients of the bottle and there it was: Dextrose was the first ingredient, another name for sugar.
So there you have it. A chewable melatonin tablet was the culprit. Kim began taking these tablets before she began her nighttime routine of brushing, flossing, and tongue scraping, thus eliminating the cause. We're pleased to say she's back to no longer getting cavities.
Below are all the most common reasons that make people get cavities all of a sudden. Check the list and let me know if it helps you find out what's causing your cavities.
Why Am I Getting Cavities All of a Sudden?
Change in daily routine: If you weren't getting cavities before and now you are, it's highly likely that something in your life has changed that's causing the sudden onset. Consider lifestyle factors like diet, stress, starting school or a new job, and new habits.
Stress: Stress isn't just in your head; it has an effect on the entire body. Stress increases the immune response and inflammation throughout the body. Stress can also give you dry mouth or make you crave the wrong foods. A lot of my patients are entrepreneurs, students, or new parents and the added stress brings with it increased cavities.
New exercise routine: If you've started jogging or working out, you might be getting dry mouth. Saliva helps neutralize the acids in our mouth, which are what cause tooth decay and cavities. If you have less saliva due to dry mouth, this could cause cavities.
More frequent sugar: When it comes to your teeth, the amount of sugar you eat doesn't matter as much as how long the exposure is. Eating five slices of cake all at once would be better than sucking on a hard candy or a cough drop for an hour. Sipping on soda or snacking frequently can all be culprits of an increase in cavities.
A sore throat or the flu: Sucking on cough drops all day long are a common culprit of cavities that people don't know about.
More acidic foods: Do you have a new favorite food or drink that's high in acid? Some common culprits are citrus and tropical fruits, tomato sauce, sports drinks, and soda.
Over-brushing: Most people over-brush, hoping to get the chore done faster. What they don't realize is that toothbrush bristles can actually do quite a bit of damage by cutting away enamel.
Not enough brushing and flossing: This one goes without saying. Brush up on your flossing and brushing technique. If you hate flossing, try out a flossing stick.
A new dentist: A common pattern of dental fraud is seeing a new dentist for the first time who prescribes a ton of new treatment. Trust your gut; if you've never had all your cavities your whole life, see the dentist every six months, and have excellent oral hygiene, then it should raise a red flag if a new dentist tells you that you suddenly need twelve fillings. See my guide to Little Known Ways to Make Sure You Never Get Ripped Off at the Dentist.
Gum recession: Receding gums expose the root of the tooth. The root is the part of the tooth below the gum and it doesn't have a protective enamel covering like the rest of your tooth, making it much more susceptible to decay and cavities.
Chemotherapy: Chemotherapy treatment can result in dry mouth, which makes you more prone to cavities.