I tested the quip toothbrush for 8 weeks and got to know the founders of this popular Instagram brand.
Is the quip brush just a lot of hype, or is it worth the extra cash? As a dentist, minimalist, and ruthless product tester, I consider the quip worth the investment for travelers and minimalists. For budget-conscious families or anyone looking for a high-powered sonic toothbrush, quip may not be worth the price tag.
For the last 3 years, this brush has been my go-to travel toothbrush. Compared to an Oral-B or Philips Sonicare electric toothbrush, Quip offers some perks but lacks some features you should consider before deciding if it's right for you.
IF YOU PURCHASE A PRODUCT USING A LINK BELOW, WE MAY RECEIVE A SMALL COMMISSION AT NO ADDITIONAL COST TO YOU. READ OUR AD POLICY HERE.
If you're ready to get a quip, buy it here for $15 off your first refill.
What is a quip toothbrush?
The quip electric toothbrush is a low-powered, battery-powered sonic toothbrush. It uses a 2-minute timer with pauses at 30-second intervals, which reinforces good brushing habits and ensures you brush all 4 quadrants of your teeth.
Quip embodies simplicity. They offer 2 toothbrush sizes (for adults or kids) with soft-bristled brushes and optional adults' or kids' toothpastes. Their subscription service allows you to have a toothbrush head, toothpaste, and battery refills delivered to your door every 3 months.
It's approved by the American Dental Association (ADA) for plaque removal and reduction of gingivitis.
This adult-sized brush comes in one of two materials: plastic and metal. Each type has various color options, and there are often limited edition colors offered throughout the year (I've seen all-black, red metal, and aqua, to name a few).
Quip metal vs. plastic? The metal quip brushes are a bit heavier and feel higher-quality than the plastic. However, their plastic brushes are known to hold up over time just as well as the metal ones.
Quip now carries a kids' toothbrush line, which is great for *kids ages 3 and up.
This brush is small, particularly when compared to other electric toothbrushes.
The quip electric toothbrush offers gentle sonic vibrations at 15,000 strokes per minute.
It doesn't offer the same power as many brushes, but that's kind of the point. One ad they circulate emphasizes that it's "less jackhammer."
Quip also sets itself apart with a uniquely designed holder that adheres to a flat surface and can be used as a travel cover.
Get Dr. B's Dental Health Tips
Free weekly dental health advice in your inbox, plus 10 Insider Secrets to Dental Care as a free download when you sign up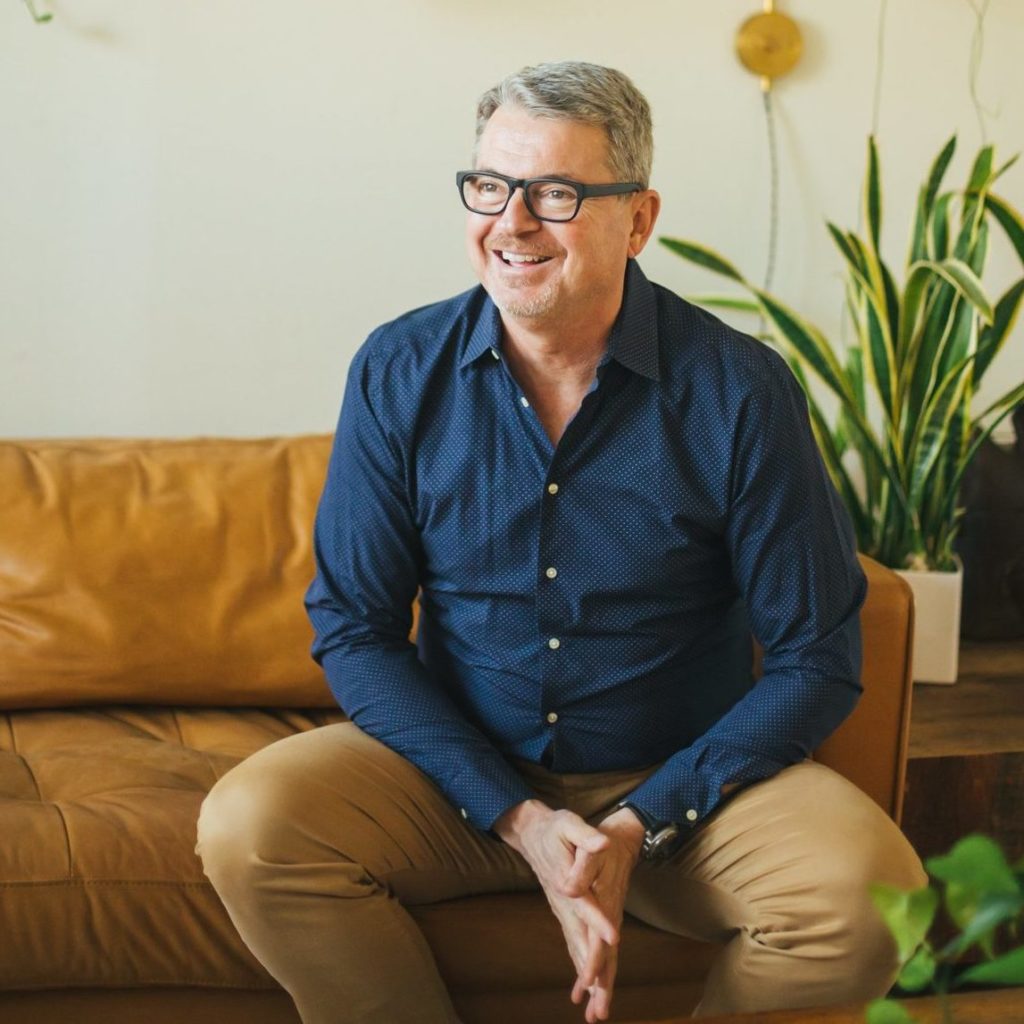 How much does it cost?
Adults' and kids' quip toothbrushes start at $25 with a subscription. Metal brushes and limited editions are more expensive.
Additions like floss, travel toothpaste, or other accessories will also increase the price.
You can save money on your quip toothbrush by purchasing a refill plan. One-time purchases cost more upfront.
This is a somewhat higher price point than a regular manual brush while falling below most electric toothbrushes, particularly those that match quip's stylish branding.
quip doesn't sell on Amazon, though some third-party sellers may post quip brushes for sale. These are likely to be significantly more expensive than just buying direct — plus, since it's not through quip, you won't be getting a subscription.
One odd note: I've never discovered why the refill plan sometimes costs more upfront without toothpaste.
How I Tested quip
Before I recommend any dental hygiene products to my readers or patients, I take several steps to make sure it's truly a high-quality product.
To test this toothbrush, I:
Brushed with it exclusively for about 4 weeks, then swapped back and forth with my go-to Sonicare
Paid close attention to the battery life and quality after those 8 weeks
Tried the tongue cleaner on the back of the toothbrush
Tested the EMF output of the brush while running
Asked my hygienist how my plaque and tartar buildup looked after shifting over to the quip
Brushed too hard a few times to check for a pressure sensor that pauses the sonic vibrations (there isn't one)
As you can probably guess, as I'm still using this brush 3 years later, I was happy with the results of my quip. However, it's not the only toothbrush I use and I did end up going back to a high-powered sonic brush as my more frequent day-to-day toothbrush.
I ordered a kids' quip toothbrush to test out the differences when the new size was released. I spent two weeks using it once each day to ensure the quality and build were the same, just in a smaller size.
After I tested it, I got a new kids' brush head and let my 2-year-old granddaughter try it out. It's become her favorite toothbrush, and she's still using it!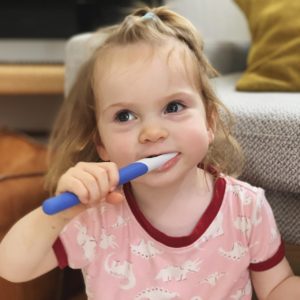 What I Like About quip
There's a lot of good to say about quip. For one, it was great to have a clear counter and a very minimal amount of space taken up when compared to other sonic brushes like Oral-B or Sonicare.
After 3 years, I can confidently say that the hype around quip is there for good reason. The brush is still in great shape, the sonic power works just as well as the first day I tried it, and the design of the brush still looks excellent, even after many trips and years of use.
My favorite things about the quip toothbrush are:
Sleek, minimalistic design. Quip creates no cord clutter and is a great addition to a stylish bathroom due to its simple, beautiful craftsmanship. There's just one button: on, or off.
One power setting: gentle. Most electric toothbrushes should only ever be run at a "low" power setting, so I like that quip doesn't confuse things with multiple power or function settings. It vibrates just enough for an added benefit to your brushing habits, but not so much that it's uncomfortable.
Subscription options. Getting replacement heads in the mail without having to order them is a major benefit of quip for me. A new brush head is vital for preventing abrasions on your teeth from worn-out toothbrush bristles.
Two-minute timer with 30-second pulses. This helps reinforce good brushing habits for better dental checkups — every quadrant of your mouth gets equal attention.
Intuitive travel-friendly design. It's easy to throw in a suitcase without squishing the brush head.
Option for kids or people with smaller mouths. I tried out the quip kids' brush and had my granddaughter try it as well when it was released. The kids' brush is identical to the adult brush, just with a smaller handle and head. It's a great addition to the line, and I actually prefer the kids' brush head for myself!
Cross-compatible brush heads between children's and adult brushes. I explain below why the size of quip's adult brush head is a very minor drawback for me. However, I like that they had the foresight to make both brush head sizes fit either handle.
Oral care email newsletter and information packet. As a dentist, I feel like quip is a partner in "compliance" when it comes to better brushing habits.
My hygienist was impressed that, even switching to a much less powerful electric toothbrush, there was no added plaque buildup after repeated use.
Oh, and the reusable adhesive that you can use to attach the travel case to your mirror really works, even after several reattachments.
One feature that matters to me is also EMF output, as the electromagnetic frequencies put off by many household devices may interfere with thyroid function. It's one reason I hesitate to recommend many electric brushes for patients who have thyroid issues.
The quip absolutely wins in this category, beating out every other brush I've tested with a minimal EMF output of 12.8. (If you're wondering, I use this EMF reader.)
What I Don't Like About quip
While there are many things I like about the quip, there are also a few drawbacks. My least favorite things about quip are:
Fluoride toothpaste. I haven't recommended toothpaste with fluoride for years now, as it's not necessary with the availability of hydroxyapatite toothpastes like Boka and RiseWell. My professional opinion? Skip the toothpaste if you order a quip.
Large brush head size. The brush head size on the quip is slightly larger than I'd like. For most people, this isn't an issue, but if you have a small mouth, consider ordering a kids' toothbrush head instead of an adult for a better fit.
Battery-operated, not rechargeable, with no low battery indicator. With how many items we keep in our homes that come with chargers, it's not uncommon to realize at the last minute you've run out of batteries. This is a very small item because each battery lasts a long time, but without an indicator, this can be a minor inconvenience.
Inefficient tongue scraping. The tongue cleaner on the back of its head doesn't give my tongue the clean I get from a metal tongue scraper. For me, that feature could have been left out entirely.
In the Box
When you receive a quip brush starter set, here's what you can expect (with some variations, depending on your order):
1 quip brush with an attached head (battery inside)
A 3-month supply of quip's whitening toothpaste (or watermelon anticavity toothpaste, in the kids' set)
A base for shipping that's also convenient to stand the toothbrush upright
A travel cover mount that sits in the base or attaches to your wall or mirror for daily storage and doubles as a travel cover to protect the head of the toothbrush
A clear tube so your brush arrives fresh and sealed
Instructions and general oral hygiene information packet
Some starter sets also include:
A replacement brush head
A refillable floss dispenser (plastic or metal)
A 2-week travel supply of toothpaste
Floss
Quip doesn't come with a charger, like most other electric toothbrushes. Instead, it utilizes a single AAA battery that lasts up to 6 months of twice-daily brushings. Quip actually sends a new battery with your refills.
Comparison of quip, Philips Sonicare, and Oral-B
The biggest differences between quip and Sonicare or Oral-B electric toothbrushes are the power they offer.
Quip uses sonic technology pulsating at 15,000 vibrations per minute. The lowest tier of Philips Sonicare brushes start at 31,000 vibrations per minute, and more expensive models top out around 62,000 vibrations each minute.
Oral-B is different, as an oscillating brush (it spins rather than vibrating), but boasts 22,500-48,800 rotations each minute (depending on price point).
Quip has only two brush heads and they are exactly the same except for size. Conversely, both Sonicare and Oral-B offer a large variety of toothbrush heads for different use cases that are compatible with most or all of their brushes.
Finally, quip sticks to just one design in two sizes — its features and style are identical between the sizes, and there are no "upgraded" features available for a larger price tag.
Sonicare and Oral-B offer "premium" toothbrushes that cost up to $300 with features like Bluetooth connectivity, charging travel cases, multiple brushing modes, and more.
However, while many brands of Sonicare and Oral-B are approved by the American Dental Association, their lowest tier brushes at the same price as quip are not ADA-approved. Quip's $25 model is ADA-approved.
Quip vs. Other Electric Toothbrushes
How does quip compare to other electric toothbrushes? Here's how they match up with other electric toothbrushes around the same price point.
| | | | | | |
| --- | --- | --- | --- | --- | --- |
| | quip | Sonicare DailyClean | Oral-B Vitality Pro 500 | Arm & Hammer Spinbrush | Colgate 360 |
| Brush Type | Sonic | Sonic | Oscillating | Oscillating | Sonic |
| Starting Cost | $25 | $25 | $25 | $6 | $7 |
| Vibrations per Minute | 15,000 | 31,000 | 22,500 | 3,700 | 20,000 |
| Battery Type | 1 AAA | 2 AA | Rechargeable | 2 AA | 2 AAA |
| 2-Minute Timer | Yes | Yes | Yes | No | No |
| ADA-Approved | Yes | No | No | No | No |
| Brush Head Subscription | Yes | Yes | Yes | No | No |
| Brush Heads Available | 2 | Many | Many | 3 | 1 |
| Available on Amazon | No | Yes | Yes | Yes | Yes |
Quip's price is higher than two popular budget brushes, the Arm & Hammer Spinbrush and Colgate 360, but on par with the Philips Sonicare DailyClean and the Oral-B Vitality Pro 500.
At 15,000 vibrations per minute, quip is in the middle of the pack compared to similarly priced models, which vibrate anywhere from 3,700-31,000 times per minute.
Quip is the only electric toothbrush in its price point that's approved by the American Dental Association.
Unlike comparable brands, quip is not available on Amazon.
Why I'm a Fan of the quip Brand
Quip is a toothbrush company launched in 2015 that seeks to make brushing stylish and simple.
When I found this company, their mission was just as vital to me as their product.
The founders of quip, Simon Enever and Bill May, have told me since the start that their goal is to simplify electric toothbrushes and motivate people to improve their oral health. You don't just get a brush — you also get a regular newsletter (similar to mine) that encourages better oral care.
Overall, Enever and May consider themselves founders of a health startup, not just a toothbrush company.
Habits are hard to form, yet hard to break. You've heard the saying "your life is the sum of all of your habits." Well, that's just downright intimidating, especially when you consider all the implications of the mouth-body connection.
As a dentist, I deal with habits all the time. I teach my patients how to change their dental hygiene behaviors, and toothbrushing is a huge part of that.
This was training missing from my dental school curriculum. For me to be able to help my patients and readers achieve and maintain optimal oral health, I must motivate and reinforce their oral hygiene behavior.
That's how this little toothbrush called quip caught my interest.
Quip makes an affordable and easy-to-use electric toothbrush, but here's where they caught my interest: they send you a brand new, high-quality toothbrush head every three months. With it comes encouragement, reinforcement, and a fresh tube of toothpaste. Finally, I have a partner in toothbrushing compliance!
Is a quip right for you?
The quip is a great brush, but it's not right for everyone.
Do I recommend the quip toothbrush? Yes, I do recommend the quip toothbrush after personal testing and extensive research into the quip brand.
Who should get a quip toothbrush? I recommend the quip brush for people who:
Travel often
Want a low-cost electric toothbrush without sacrificing design quality
Don't like the sensation of high-powered sonic toothbrushes
Prefer a subscription program for replacement brush heads
Who shouldn't get a quip toothbrush? You shouldn't get a quip toothbrush if:
You're looking for the powerful vibrations of a sonic brush, like Sonicare or Boka
You would prefer a rechargeable toothbrush that doesn't use removable batteries
You're looking for a budget electric toothbrush and design quality isn't a factor in your choice
A cheaper manual toothbrush can accomplish the same results as a quip for plaque removal. So, unless its other features fit your lifestyle and budget, the quip may feel pricey compared to most manual toothbrushes and a few "budget" oscillating brushes like the SpinBrush.
Still, quip has been one of my toothbrush recommendations since they released their first brush in 2015. While they cost more than a regular toothbrush, they're still more budget-friendly than most electric toothbrushes and do add some features not found on a standard toothbrush.
If seeing a beautiful quip brush brings a smile to your face, there's a good chance it'll motivate you to pick it up two (or more) times a day. And that's what matters most when you pick a toothbrush.
To get a quip and $15 off your first refill, use this link and enter code "ASKTHEDENTIST" if it doesn't automatically register the discount.