Introducing The Oral Microbiome Reset, a 28-day program designed to support the mouth's natural ability to heal itself, so you can get out of the dental chair and start feeling amazing.
The US Surgeon General called the mouth "the mirror of health and disease in the body."
Your mouth is not Las Vegas. What happens in the mouth does not stay in the mouth. The delicate ecosystem of bacteria in our mouths is constantly under attack by:
Carbohydrate-heavy, sugary snacks, which allow bad bacteria to proliferate
Antibacterial toothpastes and mouthwash
Dryness due to allergies, medications, and mouth breathing, allowing bad bacteria to thrive
These bacteria support the immune system and our ability to process and absorb nutrients. A healthy gut is so important, it may affect our susceptibility to heart disease, diabetes, cancer, and mental health conditions (Source: Journal of Translational Medicine, 2017).
"Research shows that the oral microbiome is foundational to just about every aspect of the gut microbiome."
—Dr. Mark Hyman
The oral microbiome is not only the foundation for a happy mouth, but for health in every system in the body.
Why our oral microbes are key to health everywhere in the body:
"Every time you swallow, you are seeding your gastrointestinal tract with bacteria, fungi, and viruses from your mouth — 140 billion per day, to be exact." (Source: Heal Your Oral Microbiome by Cass Nelson-Dooley, MS)
45% of the bacteria in the mouth are also found in the gut. Your oral health, by way of your oral microbiome, are intrinsically linked with gut health.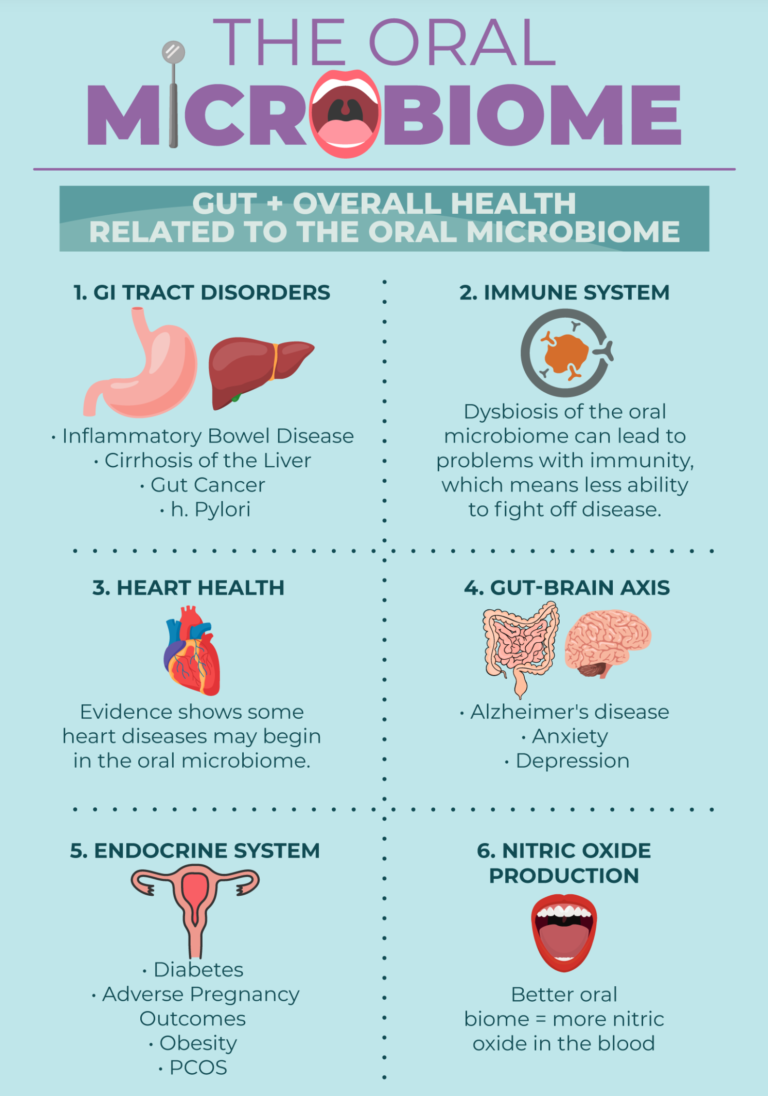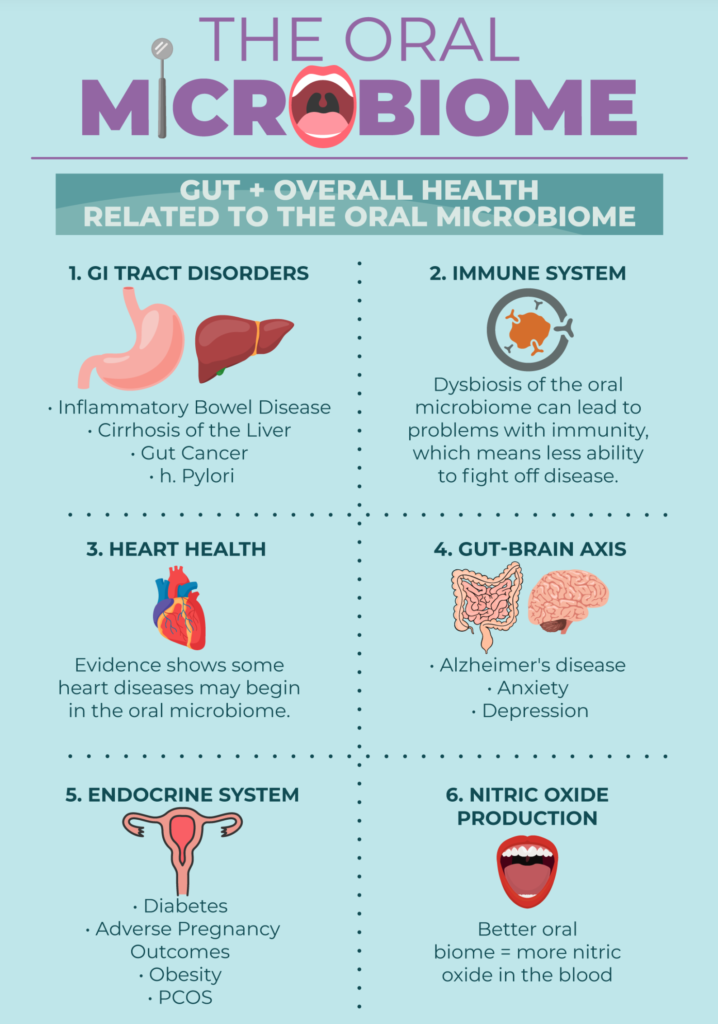 With bacteria and other microbes vastly outnumbering the human cells in our bodies, we are more bacteria than human. Our bodies can't function properly without them.
Who this program is for:
Anyone with recurring dental issues like cavities, canker sores, tooth sensitivity, decay, or bleeding gums
Anyone who's ever worried about preventing diseases like cancer, heart disease, stroke, Alzheimer's
Anyone who is pregnant or trying
Anyone who's ever had to take several rounds of antibiotics
Anyone struggling with mood disorders or mental health conditions
…then you simply cannot ignore your oral microbiome.
Imagine what 28 days of this reset could do for you.
It may seem like a tall order to change the over 100 trillion bacteria in the digestive system, but research shows that with lifestyle changes, your microbiome can quickly change (Source: Harvard Health)
The oral microbiome is a major player in the mouth-body connection. Sadly, many approaches to dental care don't consider how important it is to support a healthy flora within the mouth.
Instead, we're led to believe to disinfect, sanitize, and "clean" the mouth.
"I didn't know what bad shape my mouth was in until I started feeling better."
This is what my patients tell me day in and day out after getting on this protocol. They go from recurring dental issues, like decay, canker sores, and other chronic symptoms to not only a healthy mouth but less brain fog, better breathing, fewer headaches and tooth sensitivity.
We're at the tip of the iceberg in terms of what we're learning about the oral microbiome. This certainly wasn't taught in dental school, and you're most certainly not getting this information from YOUR dentist.
"I suffered for so long, and felt I was going in circles. Every dentist told me something different."
Many of you tell me that, if only you lived closer, you'd come see me as a patient.
While this is wonderful to hear, it tells me that you need more individualized attention and help.
This is why I created this reset — to lead you step-by-step to heal the root cause of your dental symptoms.
This reset has helped so many of my patients get off the wrong path and restore their dental health once and for all, and now it's available to you no matter where in the world you are, no in-office visit required.
Real people. Real results.
Just check out what these participants have to say:
I decided to subscribe to this program and I am happy I did.

Sometimes reading the knowledge shared on the sites or even in books feels a bit overwhelming, especially when it comes to the practical steps to take. For me it was very useful to start back from scratch and having a guidance day by day about the fundamentals things to do.

I had to admit that before I had overlooked certain things. Having your daily input and other people's sharing was a stimulus to include additional habits in my routine and now I can see these things are helping. Also it is really good to have the possibility to ask you questions on the Facebook group.

I can hardly think of something to improve the program, because it already seems very good. Now that I'm seeing benefits I can see the investment was really worth it.

– Lucy
Loving this 28-program. I'm religious about dental health and I'm surprised by what all I have learned… why aren't all dentist sharing this info?!?! I guess just like functional medicine vs traditional?‍♀️. Thanks for sharing your knowledge with more than just your patients!

– Elena
How does this program help brain health?
From depression to Alzheimer's, a healthy microbiome is integral to decreasing your risk for diseases of the brain and nervous system. The gut-brain axis is a well-established part of scientific theory.
How does this program help immune and heart health?
A major 2019 study in the Journal of Oral Microbiology discovered that bacterial populations from the mouth make their way to the gut microbiota. This can alter immune responses and potentially lead to systemic diseases.
The oral cavity is a major gateway to the human body. Food enters the mouth and is chewed and mixed with saliva on its way to the stomach and intestinal tract. Air passes through the nose and mouth on the way to the trachea and lungs.
Bacteria gathered in one part of the mouth are very likely to move to nearby surfaces. Many of these congregating bacteria often cause cavities, gum disease, root canal infections, dry socket, and even tonsillitis.
Evidence is accumulating which links oral bacteria to a number of systemic diseases, including cardiovascular disease, preterm birth, diabetes, and Alzheimer's.
What to Expect
As part of this reset, you'll get:
28 days of emails to walk you through the reset with actionable, progressive steps to implement each day
A diet plan, including snacks, recipes, and deprivation-free tips for cutting out sugar (this dentist has a sweet tooth, too!)
Live Q&A with Dr. Burhenne and oral microbiome researcher, Cass Nelson-Dooley, MS
A downloadable PDF with the entire program contents (a $27 value!)
Free dental health goodies worth $100
Here's a breakdown of what we'll cover each week:
Week 1: The Mouth-Body Connection
How to identify issues in your own mouth
How to think functionally as a dental patient
Getting rid of dental "health" products wrecking your oral microbiome
Week 2: Nutrition for the Oral Microbiome
Diet plan & shopping list
Eliminating biome-busting foods and drinks
How to offset potentially harmful effects of "cheat" foods
Week 3: Routine Reboot
Dig into the daily habits that harm your oral microbiome
Introducing new habits into your dental routine
Week 4: The Sleep-Biome Connection
How your sleep affects your dental health
Fixing the root cause of dry mouth and mouth breathing
But the program doesn't just stop there. The reset is not only designed to reboot your mouth, it's also designed to reboot your habits so you're set up for a lifetime of success, long after you've completed the program.
"No matter what I did, I still struggled with bad breath, which I now realize was actually coming from an imbalance far deeper in my body than what any mouthwash could address."
If you could've fixed bad breath with a toothpaste or a mouthwash, you would have done it by now.
If all you needed to prevent cavities was to floss more, then tooth decay wouldn't be the world's #1 most prevalent disease.
Scientists from around the world now agree that inflammation is the root cause of all of the major diseases: cancer, heart disease, and diabetes—even Alzheimer's.

—TIME Magazine, 2004
The mouth really is the gateway to the rest of the body. It's time to act on that knowledge.
I've been practicing dentistry and studying the science for long enough to know now what I was not taught in dental school:
Dysbiosis in the mouth is the root cause for all dental issues.
Most exciting to me about this program is that it sets you up for a lifetime of habits and knowledge that have the potential to prevent, not just cavities, but even the bigger, more scary diseases we have to fear in our modern world — like cancer, Alzheimer's, heart disease.
As a dentist, I do fillings and implants and all sorts of dental work all the time for my patients. But what's MOST meaningful to me is when I can work with my patients to change their lifestyle to PREVENT issues from happening in the first place.
It saves my patients money, pain, and distress years into their future.
And this is exactly why a reset like this is an investment in yourself and your family's health for not just the next 28 days, but for the rest of your lives.
And if you don't agree, then I URGE you to share that feedback with our team by contacting [email protected] and get your money back under our refund policy, explained below.
Our 100% Money-Back Guarantee
This Oral Microbiome Reset is research-backed and proven to work, based on decades of experience with my own patients.
And, unlike any dental work you'll get throughout your life, this program offers a full, 100% money-back guarantee.
Go ahead and try it—and if you decide in the first 7 days that it's not for you, you'll get your money back.
Don't Wait! Early Bird Bonus:
As a bonus, the first 100 sign-ups will receive several oral microbiome-boosting products, including supplements, toothpaste, and much more!
Ready to hit "reset" on your mouth?