I'm all for investing in your teeth. But do you really need to spend $150 on a toothbrush that connects to your phone?
In this review, my goal was to thoroughly test all the bells and whistles to determine what the Oral-B Smart Series 7000 can actually do for your health.
At first glance, I was skeptical about a Bluetooth, remind-you-to-brush, connect-to-your-phone, LED-flashing, social-networking toothbrush. However, I think you'll be surprised — as I certainly was — after using this toothbrush. Here's what it did for me.
What It Means For Your Health
The verdict: This toothbrush won't necessarily give you a better clean than another high-quality electric toothbrush, but that's not the point. You could have the best toothbrush in the world, but your brushing technique makes all the difference.
The 7000 series goes beyond being a high-quality toothbrush to try to make you a better brusher.
In a nutshell, it does this by:
Helping you build better habits.
Stopping you from brushing too hard, which is more harmful than you think — up to 80% of us over-brush, causing gum recession, tooth sensitivity, and even cavities.
It might not sound like much, but years of the wrong technique can lead people to wake up decades later wondering, how did my teeth start to look like my grandma's?
Get Dr. B's Dental Health Tips
Free weekly dental health advice in your inbox, plus 10 Insider Secrets to Dental Care as a free download when you sign up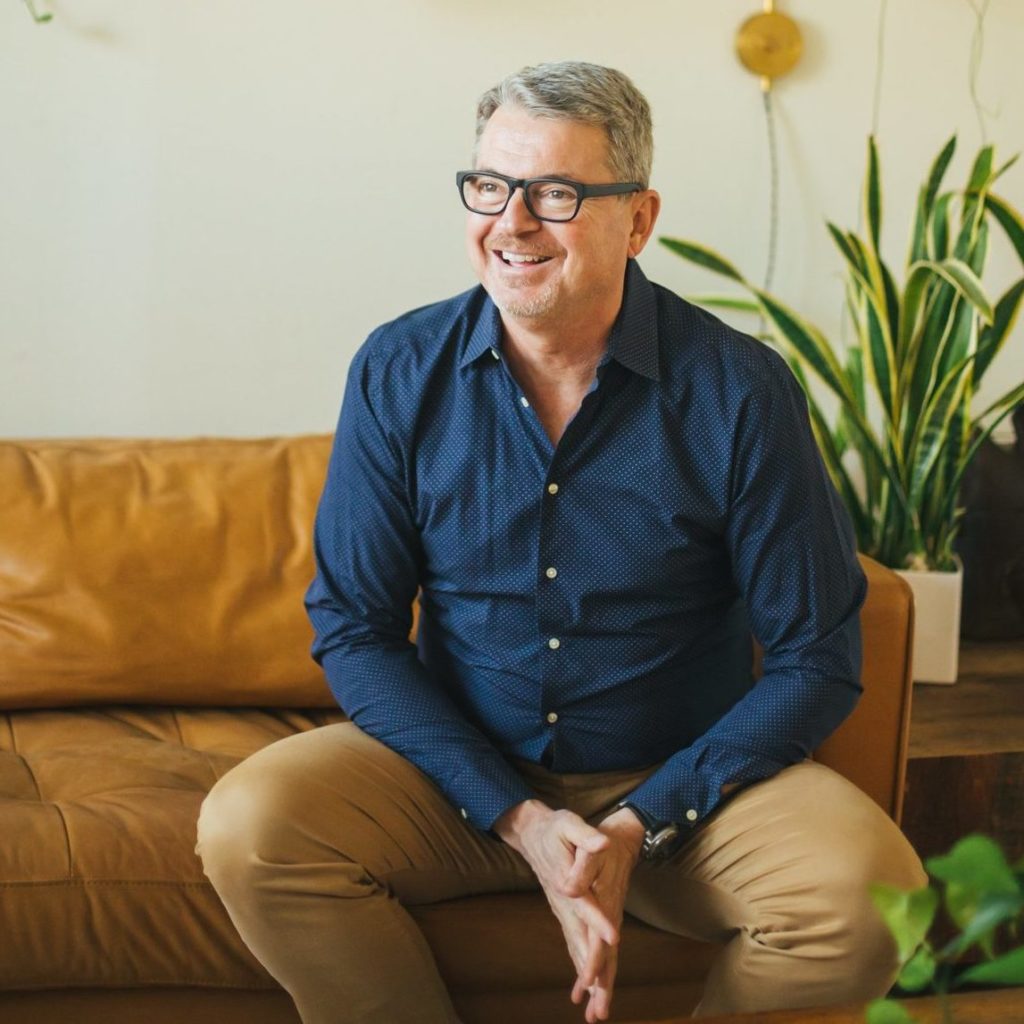 My Favorite Feature
The most valuable thing this toothbrush does is flash red and slow down the motor as soon as it senses you're brushing too hard.
What happens when you brush too hard:
The toothbrush flashes red.
The app records when and for how long you over-brushed. Somehow, seeing the red areas of the graph was a powerful motivator to me to be gentler.
This is perhaps the most powerful hidden feature — the motor slows down to help reduce the damage to your teeth and gums when applying too much pressure while brushing.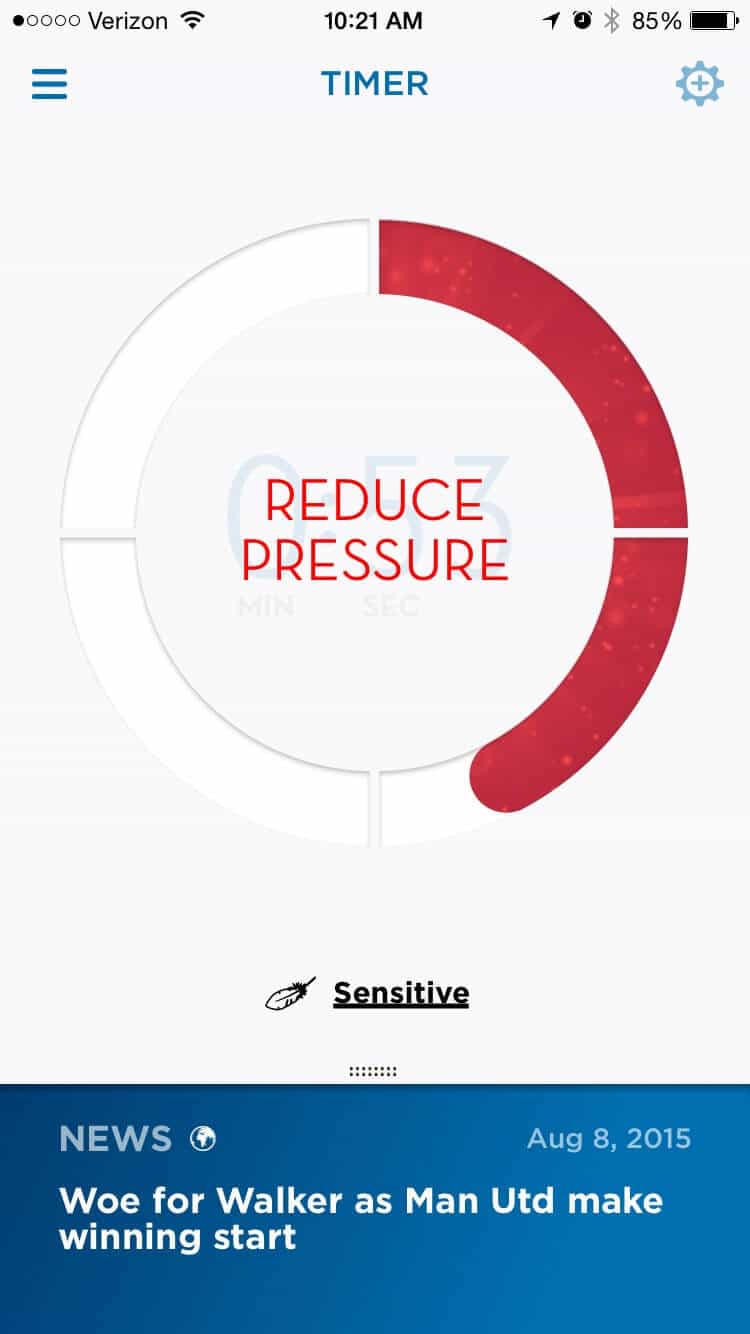 I was pretty sure I didn't need any help with my technique. I do this for a living, after all! And yet, I got the blinking red light once or twice.
We could all use a reminder from time to time. When I do a demo of over-brushing for my patients, they're shocked at how little it takes to do damage. To get live feedback in your bathroom on your brushing technique is pretty incredible.
My one gripe: I wish this feature were even more sensitive. There were times I felt I was brushing too hard where the light did not come on. It's too bad that there aren't any firmware updates for this!
A Cheaper Toothbrush With Almost the Same Feature
Note: You can get cheaper models — the Oral-B 3000 or 5000 — which also have the pressure sensor that slows down when you brush too hard. This is a great option if you want to stay under $100 but still want the protection of always being told when you're brushing too hard.
The Oral-B App
I didn't think the app would have much effect on me, but it did. I was motivated to get a perfect score and to check in twice a day to keep my graph looking good. It wasn't nearly as hokey as I thought it would be — it was really well designed, easy to use, bug-free, and even delightful. I liked the friendly reminders and all the positive reinforcement it gave me.
A lot of us find brushing and flossing to be a chore, and that's when you have to start tapping into the science of habit formation to figure out ways to trick, distract, and reward yourself until these things become a habit.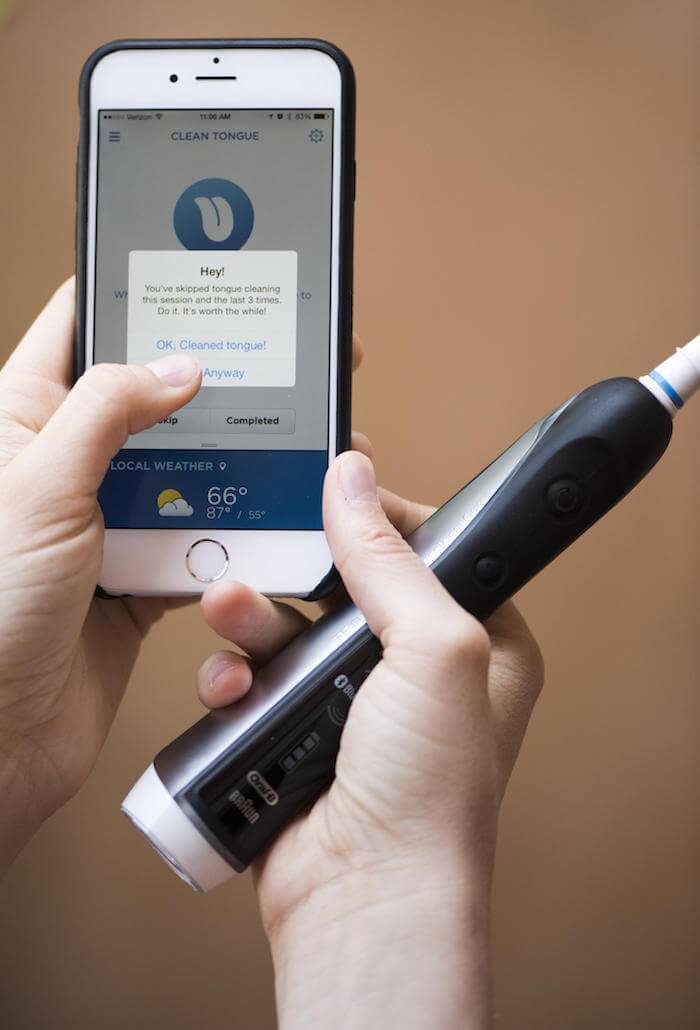 Knowing and doing are very different things. Think about it — how perfect are you really when it comes to oral hygiene? Most of us brush and floss in a hurry — as we're dashing out the door or as we're scrambling to get to bed on time.
Studies show that the most effective way to get in shape is to get an accountability partner. When the app is connected to your toothbrush, you get that same accountability — there's really nowhere to hide.
I also liked the videos and dental health tips in the app. I'm always asking my patients to bring in their toothbrush so I can show them proper technique by brushing their teeth for them as they hold a mirror. This app is essentially recreating this interaction on your phone. It's available on both Android and iPhone.
Pros
Dead simple setup:

The Bluetooth connected immediately. I wish my headphones connected this fast!

Waterproof:

You can fully dunk it in water to clean it properly. This is also nice if you like brushing in the shower.

Soft bristles:

Most toothbrush bristles aren't soft enough, so I'm always replacing the toothbrush head that the brush comes with for softer bristles. The nice thing about the 7000 is that it comes with a soft bristle head already.

Large handle:

I recommend a large handle for the handicapped, people with a weaker grip, the elderly, and children. It does make a difference!

Two-week charge:

The charge lasts two weeks, and unlike a lot of other electronics, the 7000 actually lived up to the claim when I tested it. A full two weeks is nice so you can travel without the charger.

Pulsation/Oscillation Technology: Unfortunately, the studies that say Oral-B is better than Sonicare and vice versa are funded by the companies that create the product, so I tend to ignore them and decide for myself. That said, in my experience with using a variety of Sonicare and Oral-B electric toothbrushes and seeing the results in my mouth as well as my patients', I think Oral-B's pulsation/oscillation technology is the best for biofilm removal, staining, and gum health. Pulsation/oscillation technology isn't unique to the 7000 series, though — it's available with any of Oral-B's cheaper electric toothbrushes, which I discuss below.
Two-year warranty:

Unless you do something like drive over it with a car, Oral-B will replace it, even if there are battery problems.

Reminds you to floss:

Don't we

all

need this reminder?
Cons
I wish there was a gentler, slower mode.

The current motor speed is too aggressive. I'm always looking for a lower, slower setting in an electric toothbrush so that there's less abrasion to the gums.

Takes a long time to charge:

Up to 12 hours. Travelers be aware!

Replace brush head reminder not customizable:

The app reminds you to change your brush head every ninety days. I see the damage of waiting too long to replace brush heads all the time in my private practice. Ninety days is too long.

No way to pull in your own social media feeds:

This is a feature I'd love to see in future versions of the app.

Too many modes: A

nd the only way to know which modes you're on is by looking at the app. The brush also doesn't remember the last mode you were on. Luckily, you can disable any modes you don't use in the app.

The news can be depressing:

I wonder if the latest world news headline right before bedtime isn't reinforcing the brushing habit. I recommend turning off the news in settings — keep it upbeat and enjoyable!
Who Is It For?
One justification for the high price tag is that it can be used by the whole family. It comes with different colored bands to snap on to the toothbrush heads to keep everyone apart. I wouldn't have hesitated to buy this for the whole family. I can see it being really helpful in reinforcing the right habits in kids, especially the phone-addicted teenager.
No matter who you are, I would gamble to say that you may not be as perfect as you think. And that's okay. The 7000 is a great way to verify your brushing technique and make sure you're brushing in a way that protects your teeth's delicate structure.
That said, not everyone can spend $150 on a toothbrush.
If you're looking for a cheaper model without the bells and whistles that will still give you a great clean, I really like these other Oral-B models, which offer the same level of pulsations and oscillations that have been clinically reviewed to give you a great clean:
Oral-B 5000 ($100): Basically the same as this toothbrush, but missing a few extras like a nicer carrying case and tongue cleaning mode. The tongue cleaning mode isn't necessary — you're better off grabbing a real tongue scraper anyway.
Oral-B 3000 ($80): You still get the pressure sensor that flashes red when it senses you're brushing too hard, but you won't be able to sync your brush with the app. If I had to buy this toothbrush, this is the one I would choose.
Oral-B 1000 ($40): This is a stripped down version of the 7000 — no bells and whistles, just a turn-it-on, turn-it-off toothbrush with one mode. The only downside is it doesn't have a Sensitive mode, which is safest for teeth. Still, a great option for the price range.
Luckily, anyone can download the app for free and use the timer and reminders with any toothbrush, which listens for the sound of an electric toothbrush motor to know when to start the timer.
My Tips If You Have This Toothbrush
The 7000 comes with a lot of different modes and different heads, and it gets a little confusing as to which head to use with which mode. You can damage your teeth if you don't know what you're doing. For example, I think Deep Clean with a non-sensitive bristles head could be too much.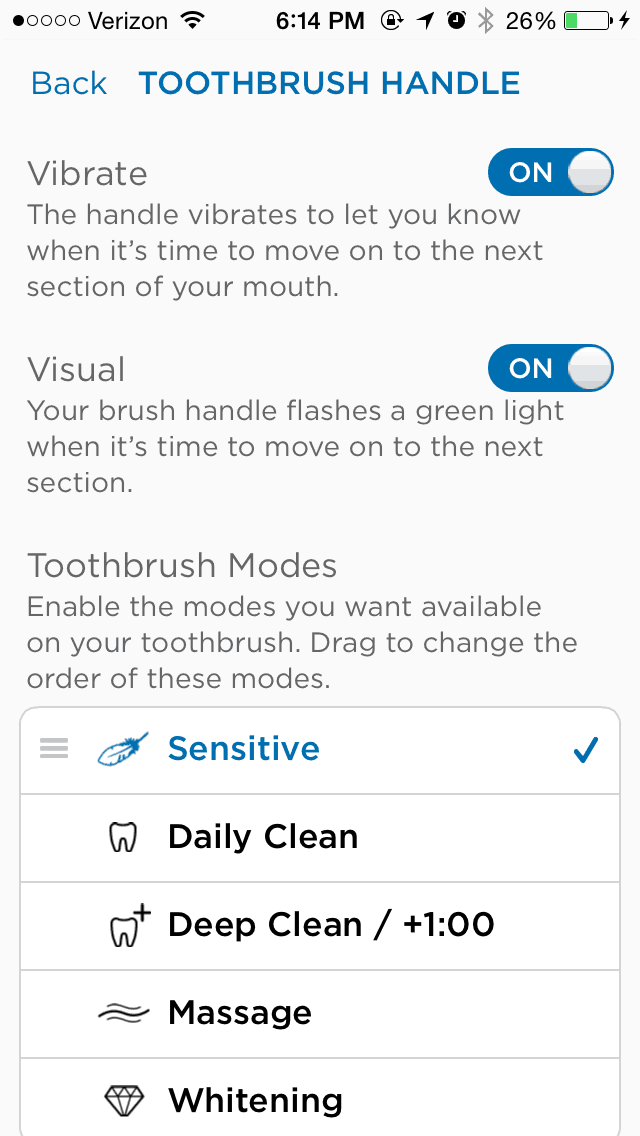 To make it simple for you, here's what I recommend:
Turn of all settings other than Sensitive.

The best and safest mode to use is Sensitive. By disabling the rest of the modes, you give yourself a turn-it-on, turn-it-off toothbrush and don't have to flip through all the different modes every time to find the right one.
Use the head with sensitive bristles.

This is also safest and gentlest on teeth and gums. Most other bristles are easily too abrasive.
Turn off mouthwash reminder. Most mouthwashes disrupt gut health and the microbiome by killing both the good and the bad bacteria and disrupting the balance of bacteria necessary in the mouth for good oral health.
Should You Buy It?
Can you get the same results with a lowly, non-electric manual Oral-B toothbrush? Definitely – given enough time, and the proper technique. But are you up to the task without the reminders, the feedback, and the instructional videos? Just as there's a self-driving car in your future, so is a self-brushing toothbrush. It's just a few years away!
---
Note: I have no affiliation with Oral-B and received no compensation for this review. Oral-B sent me a free Oral-B 7000 series to try it out. This is my honest review based on my experience with Oral-B for 25 years, my experience using this brush in particular for the last few weeks, and review of the clinical studies on how this brush impacts health.
Mark Burhenne DDS
Learn More:

Sonicare Toothbrush Review: Should You Buy a Sonicare?