More and more people are asking important questions about fluoride and exploring other options for toothpaste and dental hygiene. The good news is, there are a lot of fluoride free toothpastes on the market today. The difficulty is … where do you start with all those options?!
I have been educating patients on holistic dental care for as long as I've been a dentist (even when it got me fired). Today, I still rigorously research, test, and use thousands of products every year, so I can continue to recommend those products that I truly feel will be valuable to you in improving your oral health. Here are the nine best fluoride free toothpastes.
Ask the Dentist is supported by readers. If you use one of the links below and buy something, Ask the Dentist may make a little bit of money at no additional cost to you.
My Favorite Fluoride Free Toothpastes
Most of the fluoride free options at the top of this list are hydroxyapatite toothpastes. Hydroxyapatite (HAp) is a form of calcium that makes up 97% of your tooth enamel. That biocompatibility means your teeth can uptake, or absorb, hydroxyapatite easily, filling in fissures in tooth enamel and remineralizing tooth structure.
Simply put: Hydroxyapatite toothpastes can naturally whiten your teeth, prevent and reverse cavities, and reduce tooth sensitivity—all without the risks and potential side effects of fluoride.
Here are my favorite fluoride free toothpastes:
Get Dr. B's Dental Health Tips
Free weekly dental health advice in your inbox, plus 10 Insider Secrets to Dental Care as a free download when you sign up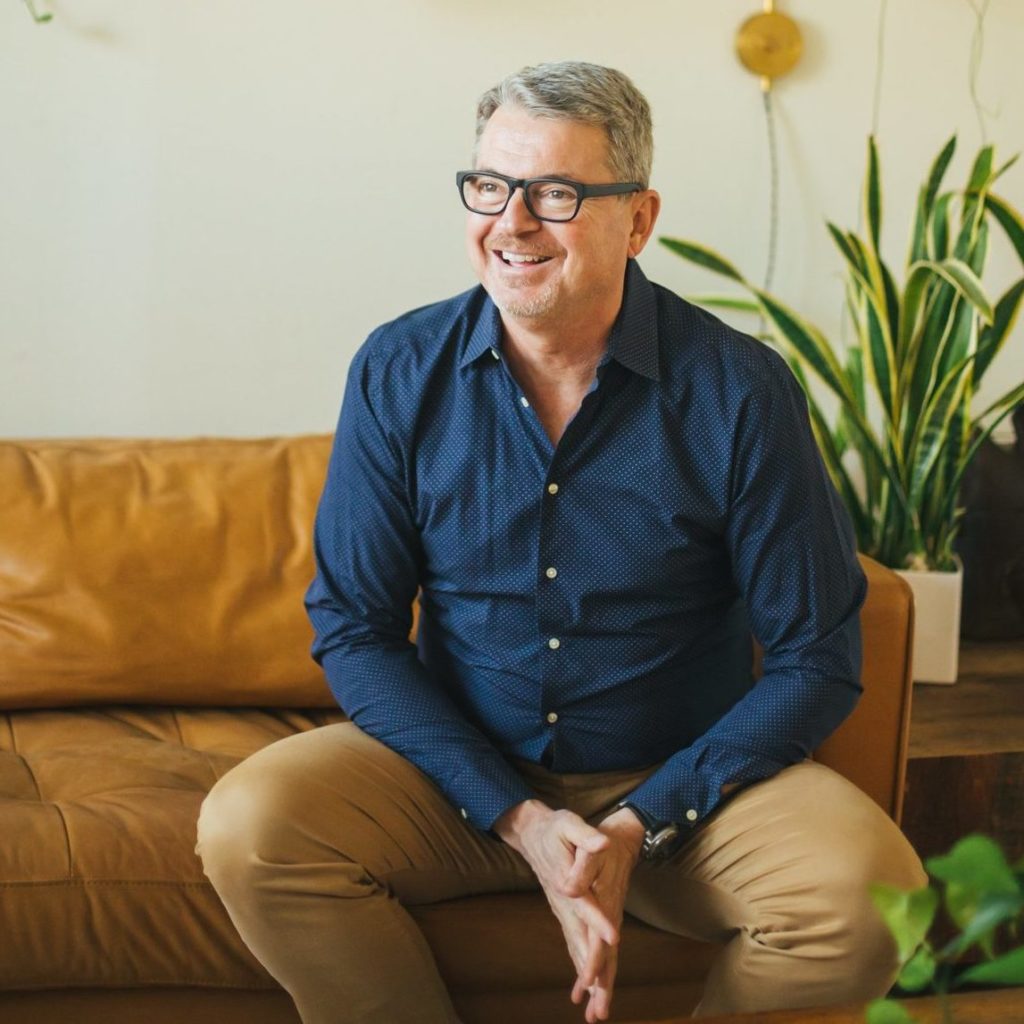 Best whitening and sensitivity: Boka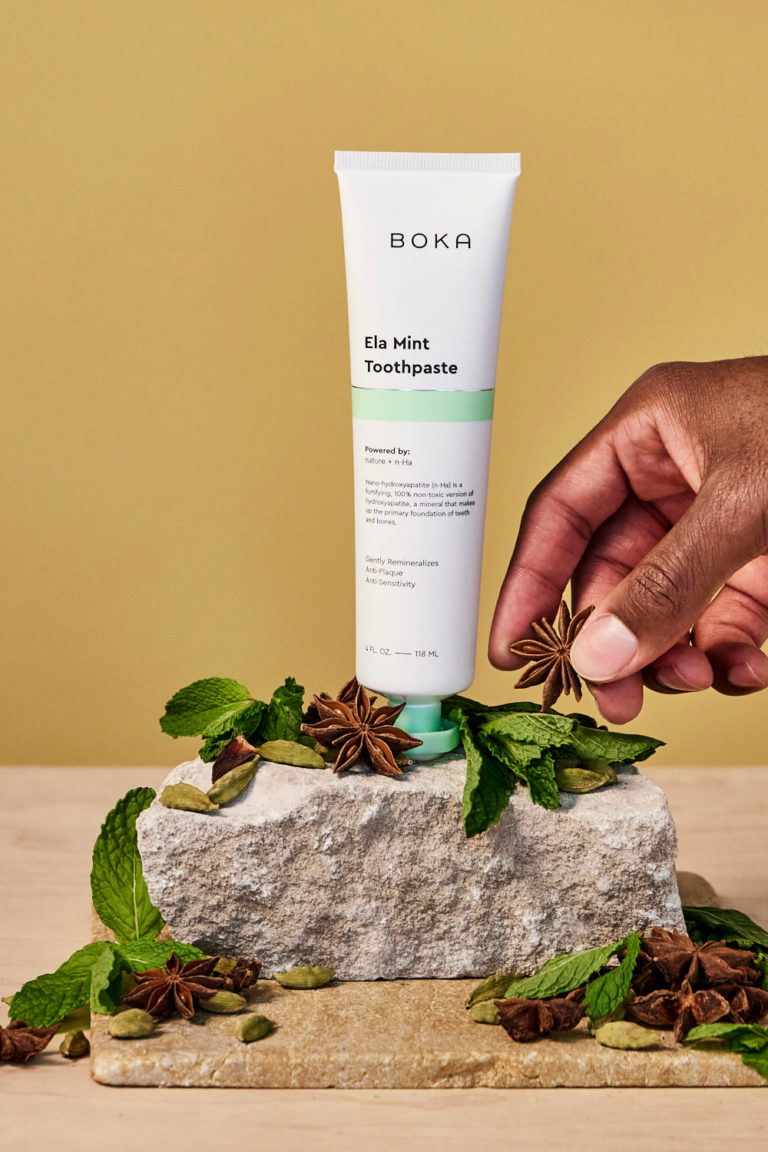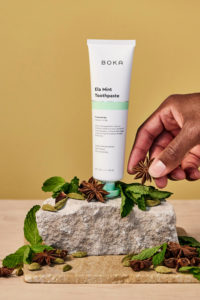 This is my daily toothpaste.
In 2017, Boka was the first hydroxyapatite toothpaste brand to launch in the United States. Boka uses nanohydroxyapatite, consisting of even smaller particles that can fit into the tiniest fissures in tooth enamel and dentin, making it my favorite overall and one of the best for natural whitening.
Boka is free of endocrine disruptors, sulfates, and parabens. The toothpaste contains aloe vera, bacteria-fighting xylitol, green tea, and mint. Not ideal is the inclusion of glycerin, essential oils, emulsifiers and surfactants. For those in search of an ultra-clean formula without glycerin and surfactants, check out Earthpaste (which is later on in this list).
My readers get 15% off with code ASKTHEDDS.
Best kids and all-natural: RiseWell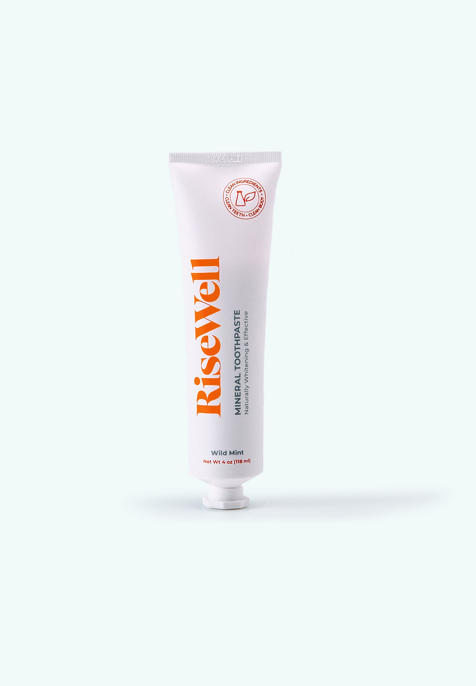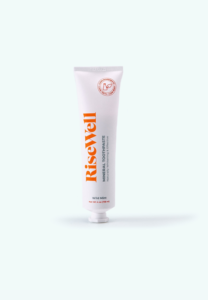 Even though I prefer the nano form of the hydroxyapatite, I also highly recommend this formula which contains micro hydroxyapatite. Micro hydroxyapatite is a larger particle RiseWell also has options for children with a Birthday Cake flavor. The formula leaves out parabens, foaming agents, and sulfates.
RiseWell uses natural essential oils, which gives it a crisp mint flavor, but as I've said before, essential oils do not belong in oral care products. While I don't love that the formula includes essential oils, this is still a great toothpaste thanks to the inclusion of hydroxyapatite at a concentration that is effective.
My readers save 10% with code ASKTHEDENTIST.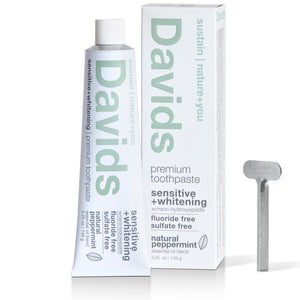 Davids offers a variety of natural, fluoride free toothpastes, but only one that's made with (nano-)Hydroxyapatite. Like most of the natural toothpastes on this list, Davids is vegan, SLS-free, and cruelty-free as well.

I appreciate Davids' all-natural ingredients list as well as the company's commitment to the environment and American jobs. Their products are 98% USA-origin and the toothpaste comes in a recyclable metal tube.
It even comes with a "key" for winding down the metal toothpaste tube, although I wish it didn't come with every single tube since it feels wasteful and I just re-use mine that I got after purchasing the first tube.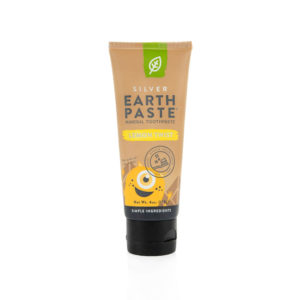 Redmond Earthpaste is another great all-natural toothpaste. The base is hydrated Redmond clay and their ingredients are about as clean as it gets, so no foaming agents or sulfates here either.
Earthpaste is also the only fluoride free toothpaste that doesn't use glycerin.
A word of caution: More recently, they added a nano silver version—I am very against nano silver as it is a small particle that can get lodged in the interstitial tissues and the body can't get rid of it.
Be sure to choose the formulation without silver (linked here). Since peppermint is a neural stimulant, I recommend the lemon or cinnamon flavors for brushing before bed if you are sensitive.
Earthpaste does not contain hydroxyapatite, which is a shame. This is such a clean formula that, if it were to have nanohydroxyapatite added at the correct strength, it would instantly be my daily toothpaste. That said, it's still pretty darn good to be included in this list.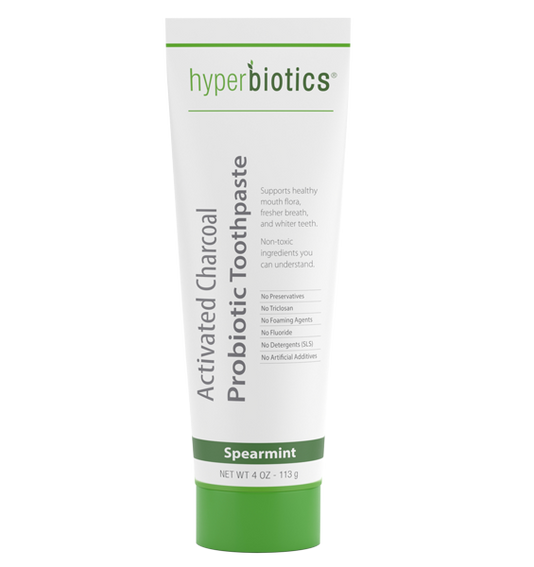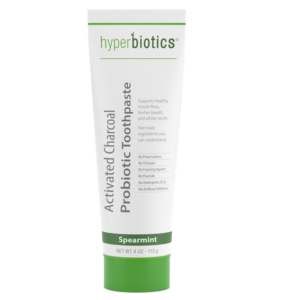 Hyperbiotics is a company dedicated to gut health and the power of good probiotics.
Although the jury is still out in terms of the scientific research on how well these probiotics "stick" it's a very progressive formula and safe toothpaste.
Good health begins in your mouth, and many of the artificial ingredients in conventional toothpastes can strip it of crucial microbes. Hyperbiotics' activated charcoal toothpaste includes some of the most beneficial bacteria strains for the mouth, and activated charcoal is, of course, great at reducing the appearance of staining.
Best sensory needs and chocolate-lovers: Theodent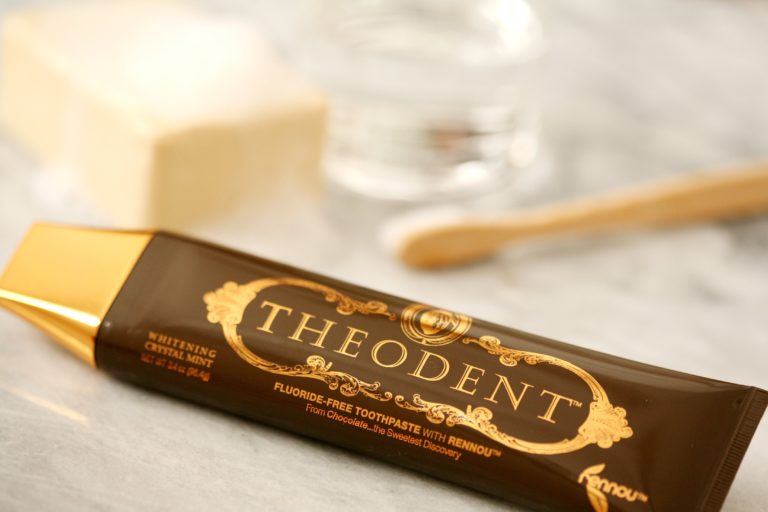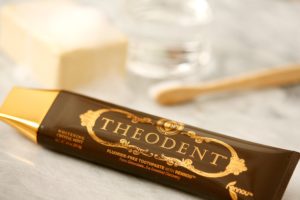 If your Theodent toothpaste looks like a small, designer chocolate, that's because it almost is. Theodent uses a unique ingredient—Rennou—instead of fluoride, which is derived from cacao beans. Rennou is a blend of theobromine, calcium, and phosphate that is, "designed to maximize rapid enamel remineralization."
I am friends with a pediatric dentist who always tells me that her sensory needs patients, especially those with autism, absolutely adore this toothpaste.
Best for bleeding gums: Radius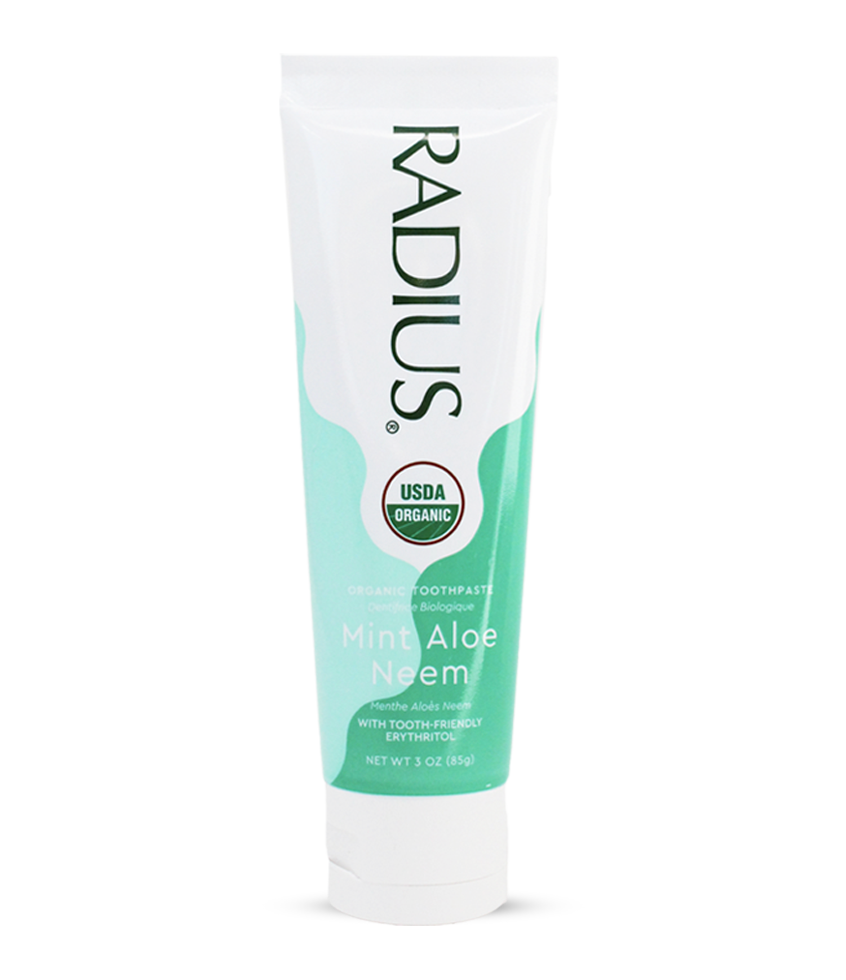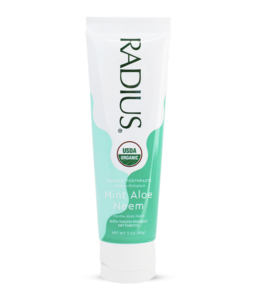 Radius' fluoride free toothpastes are not only all-natural, but USDA certified organic as well. What makes this one stand out is their selection of neem, an essential oil.
Radius' formulation includes neem—an essential oil which may help thin the biofilm although as I've mentioned I do not like to see any essential oil in toothpaste formulations, especially in strong concentrations, because it could upset the oral microbiome, making this formulation a great "reset" toothpaste for someone with gingivitis, gum disease, bleeding gums.
A note on essential oils: Essential oils are antibacterial, which means they might be killing beneficial bacteria in your mouth. Yes, some of the other toothpastes on this list include these essential oils, but unless you make your own, there's simply no avoiding EOs in toothpaste. No perfect toothpaste, as I like to say—only what's best available currently on the market.
B
Best prebiotic: Revitin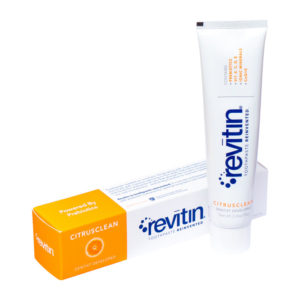 Similar to Hyperbiotics, Revitin is toothpaste that's interested in gut health. Revitin is a prebiotic toothpaste that helps to balance oral ecology as it cleans and whitens teeth. The Revitin formula also includes vitamins C, D, E, K, and COQ10.


Dr. Bronner's is an all-around great toothpaste. It's not too sweet and it foams very little (no synthetic foaming agents), which makes it easier to brush for longer. Like many of the toothpastes on this list, Dr. Bonner's is vegan, all-natural, and never tested on animals. Dr. Bonner's ingredients, however, are also fair-trade certified, so it's kind to people as well as animals.
Finding the best non-fluoride toothpaste for you and your family
The key to choosing the best fluoride free toothpaste for you and your family is to first decide what you need, or want, in addition to ditching fluoride. Do you have sensitive or damaged teeth? Is gut health a priority for your family? Maybe fair trade and environmental considerations are important factors in your purchasing? Fortunately, there's a non-fluoride toothpaste to fit almost every lifestyle, budget, and/or oral hygiene need.
If you're still not sure, my overall recommendations have been Boka and RiseWell for years. You can't go wrong with one of those.