Not sure if an electric toothbrush is for you? Want to know which one outperforms the others?
I've got the answer to that (and more) for you.
Plus, do you actually need an electric toothbrush?
The Best Electric Toothbrush for Your Needs
Because every person is so uniquely different, it's important to pick a brush based on your needs.
For people under 40 years of age or so, I recommend an oscillating toothbrush. Oscillating heads are most efficient at removing surface stains and breaking up the pellicle of fuzzy biofilm on your teeth. Typically, people in this age range are looking to whiten teeth and generally don't need the stronger vibrations of a sonic brush.
For people over 40 (or anyone with gum recession), I suggest a sonic brush. Sonic toothbrush vibrations help to break up particles of food and bacteria in the open spaces of teeth exposed at the beginning of gum recession. Since recession can't be reversed, it's vital to slow it down as much as possible.
Best for people 40+ (or anyone with receding gums)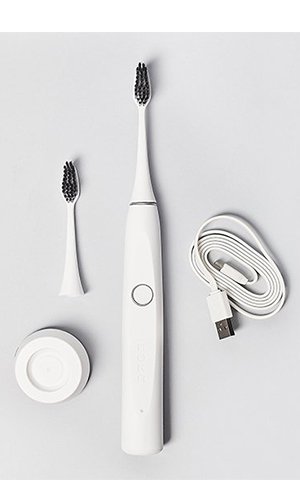 Boka Brush
$75 (one time) / $70 (subscription)
You can check out my full review here, but here are the basics you need to know about a Boka:
It's available in just one color (white) and sports a sleek, modern design appropriate for any bathroom counter.
There's one button and three speed settings: low, medium, and high. The low setting is the one to stick with, as the higher settings can lead to over-brushing.
The battery lasts 25+ days on a single charge. Its stand utilizes inductive charging and a magnet to keep the brush upright.
It contains a 2-minute timer with 30 second pauses so you know when to switch to a new quadrant of teeth.
Boka functions as a subscription service, which means you don't have to remember to buy new ones.
It boasts 30,000 vibrations per minute, putting it in the high-end sonic toothbrush class.
The black bristles are made with activated charcoal, which may help counteract bacteria on the brush head.
Boka also offers oral care plans with non-toxic floss and my favorite toothpaste on the market. Their brush also comes with a manual travel brush at no additional cost.
Best for people under 40 (or with no gum recession)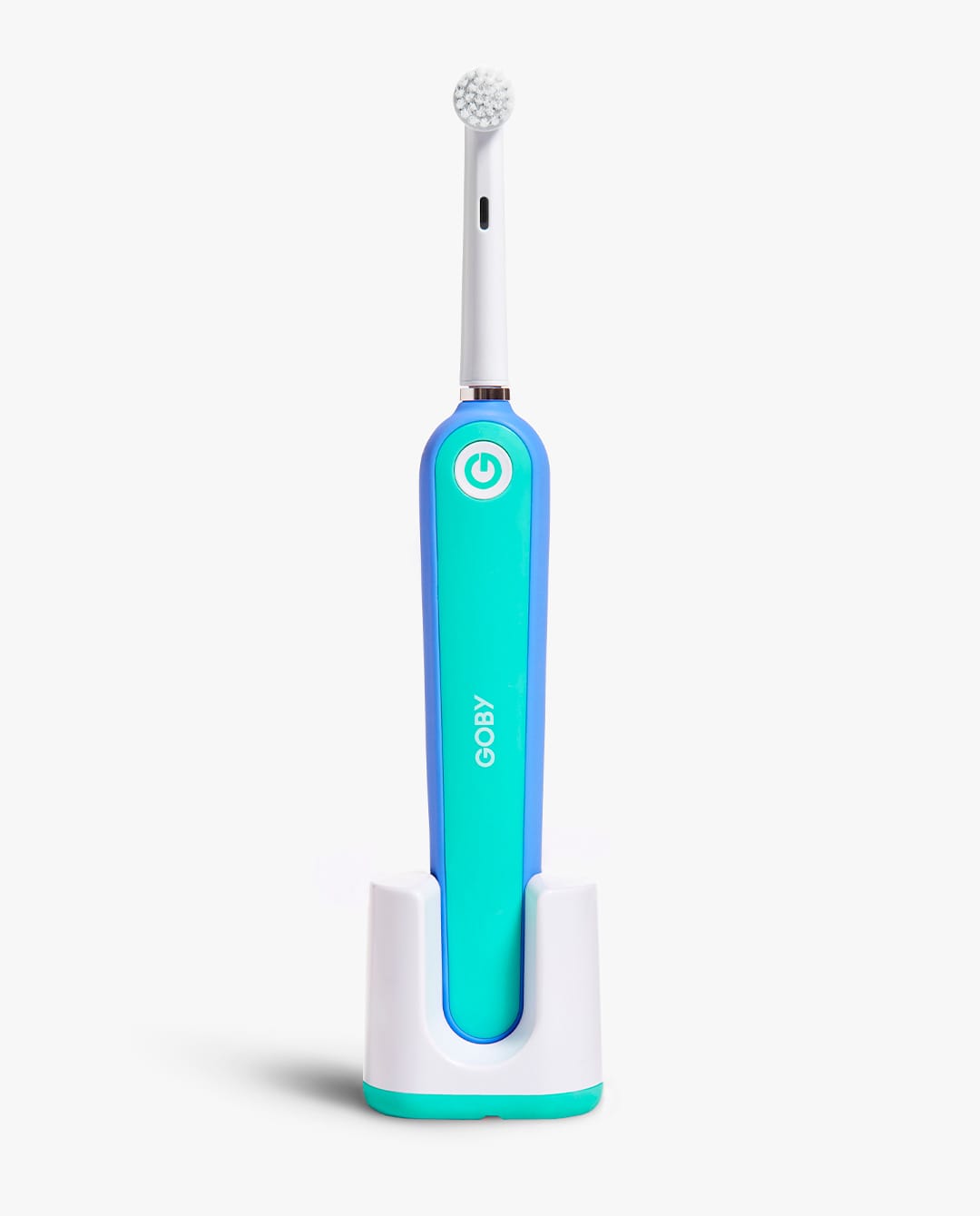 Goby Brush
$65-75 (one-time) / $50-60 (subscription)
Here are the important points from my full review of the Goby toothbrush:
Again, simplicity is king here. Goby's simple design has one button and just two settings: regular and gentle.
The battery lasts about two weeks on a charge. Also an inductive charging system, Goby comes with a charging block that can be removed from the base for easy travel charging.
Like most modern toothbrush models, the Goby has 30-second pulses with a built-in 2-minute timer.
With several color options (and a bulk order discount), you can find a brush for every member of the family.
Each Goby comes with a brush head cover for hygienic traveling.
Goby's subscription allows you to choose new head delivery at 1, 2, or 3 months.
Best for data lovers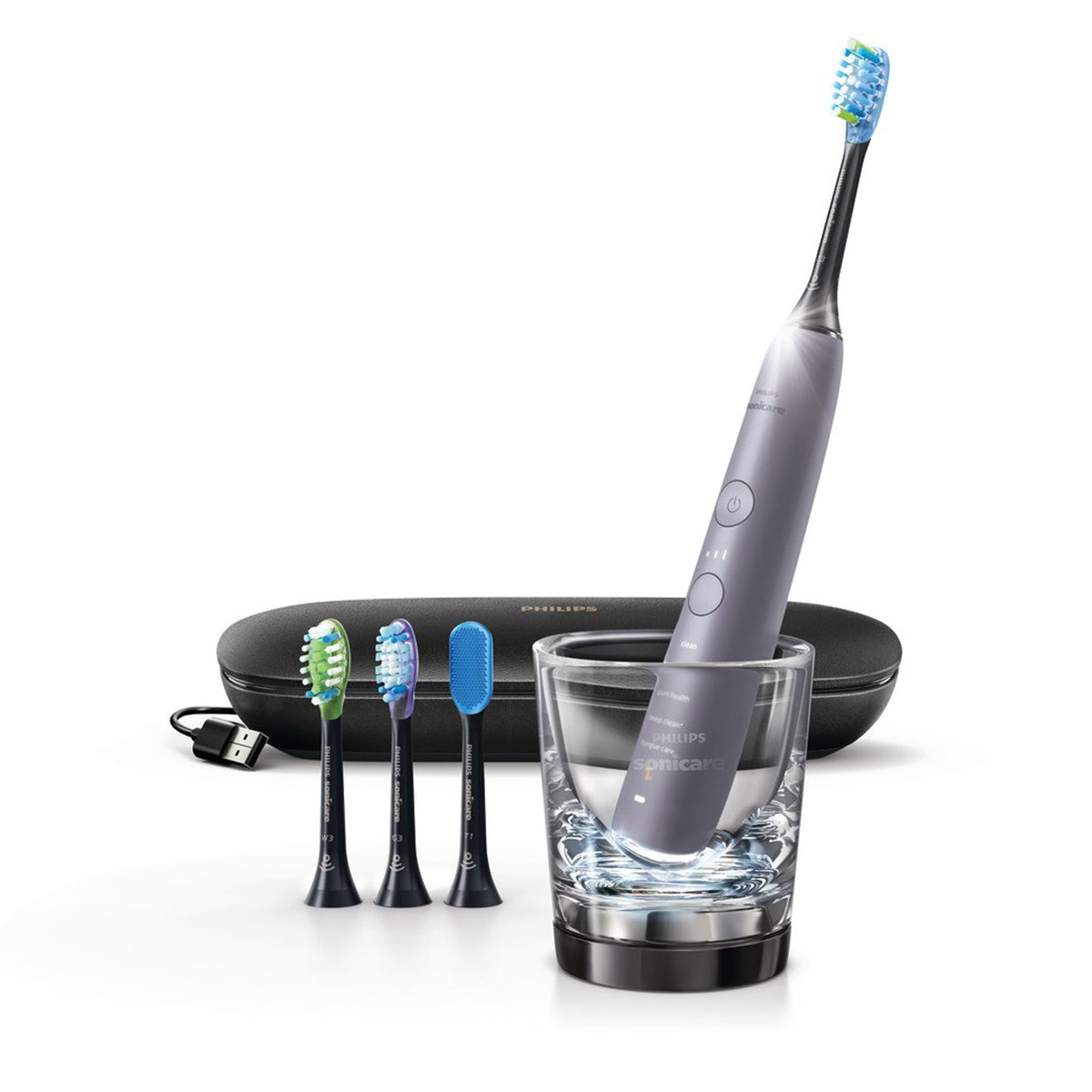 Philips DiamondClean
$220-$260
Now, I should say that I personally am not a big "bells and whistles" kind of guy. However, I know that some patients love data, and this brush definitely delivers on that front.
The Philips Sonicare DiamondClean models (9500, the middle choice, pictured above) are all about tech. They come with several fancy (and, let's be honest, kind of unnecessary) brush heads, a tongue cleaning head, a charging travel case, and even a beautiful glass through which to charge.
The biggest plus to this "Bentley" brush is its smart sensor system. With the accompanying app, this Sonicare brush can tell you exactly what parts of your mouth you're missing when you brush, where you're brushing too hard, and even where you left your keys. (Okay, I may be kidding about that last part…)
To be clear: no one actually needs a brush that costs this much money or has this many features. But if you've got the extra to spend and feel like directing it at a new toothbrush, this is a great choice.
Best budget brush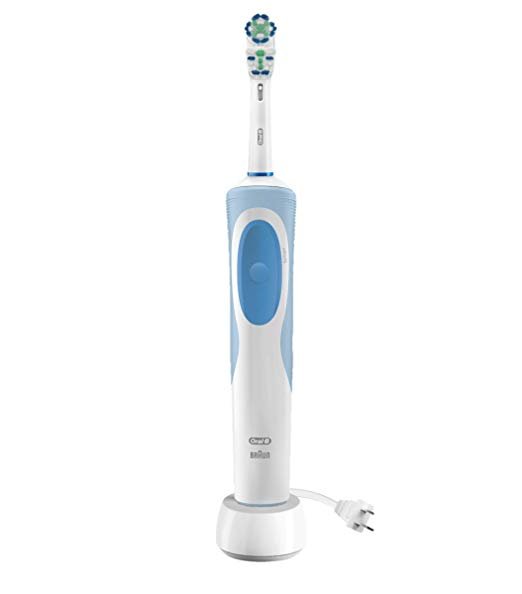 Oral-B Vitality
$19.99
Shaking your head at the prices of the other brushes on this list? Then I have good news: you can get a great electric toothbrush for just $20. My pick is the Oral-B Vitality.
This rechargeable brush also comes with a two-minute timer and is compatible with most Oral-B replacement toothbrush heads. It's a single-setting brush with no frills.
In comparison to the other brushes, it may not be as modern-looking, but it will certainly get the job done!
Get Dr. B's Dental Health Tips
Free weekly dental health advice in your inbox, plus 10 Insider Secrets to Dental Care as a free download when you sign up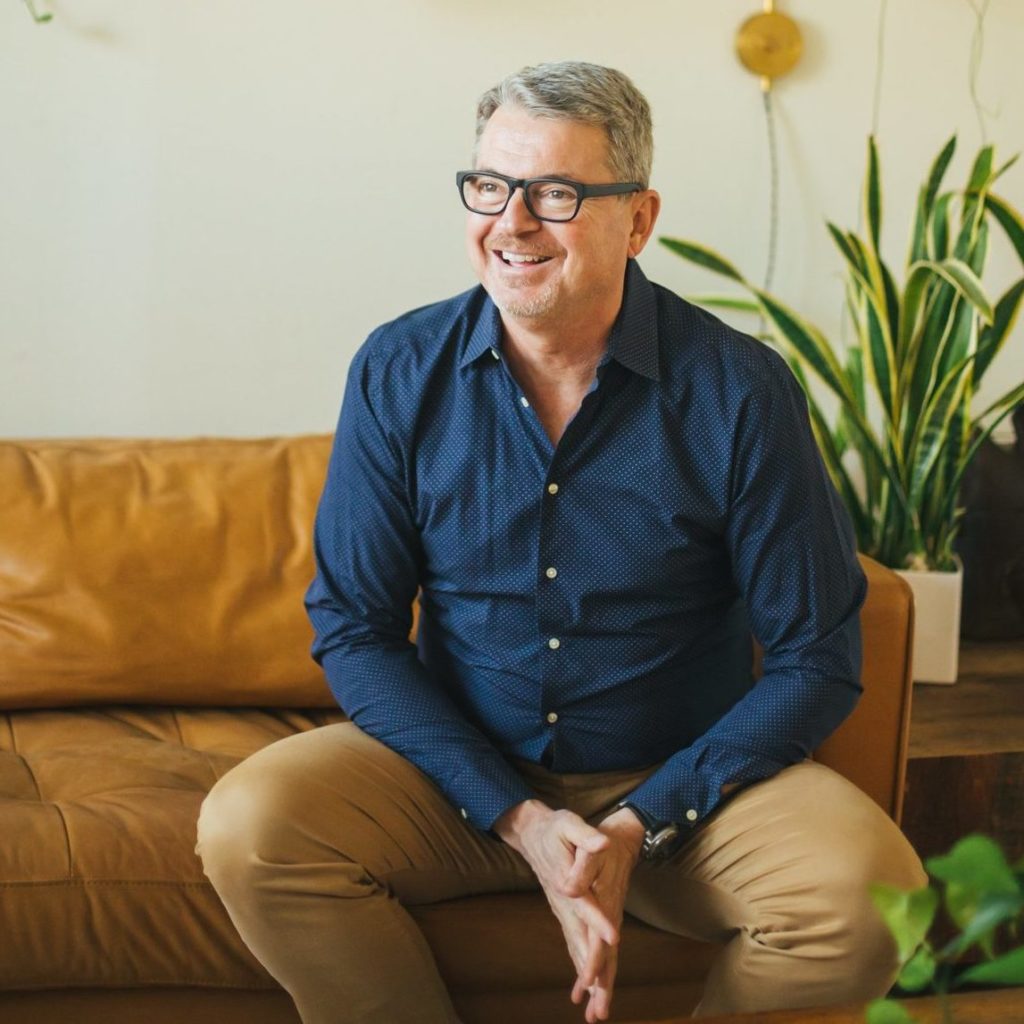 Do You Need an Electric Toothbrush?
Not everyone needs an electric toothbrush. Some people brush perfectly well with a manual toothbrush: they have the proper technique, reach all the hard-to-access spots, and use the correct motion and pressure to clean teeth without scratching the enamel.
The purpose of an electric toothbrush is to move in such a way that the human hand cannot—making it easier for you. Manual and electric toothbrushes can be equally effective—ONLY IF the proper technique is used. Problem is, proper technique is hard and an electric toothbrush can make it a lot easier.
But for anyone who struggles to get a good brush on a daily basis, electric toothbrushes can attack plaque without scratching enamel, providing a quality brushing experience.
An electric toothbrush can help:
People who brush twice a day but still have areas in their teeth and gums dense with plaque
People who do not have enough flexibility in their hands to reach the deep crevices of their mouth
People struggle with staining (especially those of us who love our morning coffee)
People who brush too hard and are at risk of scratching their enamel
In fact, a 2014 Cochrane review found electric toothbrushes result in less plaque and gingivitis than manual brushes.
A manual toothbrush can do everything an electric toothbrush can. Bust most of us stand to benefit from the assistance an electric toothbrush provides.
What Makes a Quality Electric Toothbrush
Over the last 30 years I have seen thousands of patients interact with electric toothbrushes and I have personally seen the pros and cons of their use. In addition, I am constantly evaluating new toothbrushes.
When evaluating a good electric toothbrush, here is what to consider:
Plaque removal: The key job of a toothbrush is to remove plaque from teeth and gums. A quality toothbrush will remove plaque consistently and from all areas.
By using a plaque score, which compares the levels of plaque a patient has between appointments, and the personal feel of the mouth after brushing, we can see how well the toothbrush attacks plaque. Americans, especially those eating a Western diet filled with refined carbohydrates, have thick plaque layers which sit on top of the biofilm, the protective layer referred to as "the skin of our teeth."
The biofilm is what nourishes the tooth, it keeps it moist and supplied with calcium. With too much plaque in the biofilm, the tooth won't be able to get the nutrients it needs, which can lead to cavities.
Length of life: Most rechargeable toothbrushes should last two weeks before needing a new charge. Those with replaceable batteries should last a few weeks as well, long enough to take a week's vacation without needing to replace the batteries.
Head shape and size: Head shape and size are important in accessing hard-to-reach areas, such as between the cheeks and molars.
Quality of bristles: Bristles make contact with the tooth; a bristle made of cheaper material will wear down quickly and become too sharp, scratching the enamel. But even a quality toothbrush needs the toothbrush head replaced often, at least every 3 months. Whenever possible, I recommend replacing the toothbrush head every month to ensure that it does not wear away the enamel.
Type of motion: Sonic vibrations vs. oscillatory motion is better depending on age. Like I said before, people with gum recession or over 40 will probably benefit more from a sonic brush. Those concerned more about whitening (often under 40) will see more distinct results from an oscillating brush.
Keep in mind that over-brushing with any type of brush, including manual brushes, can lead to the destruction of gum tissue. No matter what brush you're using, be gentle.
Evaluating Electric Toothbrushes
I consulted several independent studies which showed the electric toothbrushes are better options than manual brushing for most people, and studies that showed why the bristle is important in effective brushing.
The Cochrane review mentioned above confirms that the rotating oscillating toothbrushes (such as Goby and Oral-B) reduce plaque and gingivitis more than manual toothbrushing, without any injury to gums.
However, the vibrating brushes, like Boka and Sonicare, were found to be better at reducing gingival inflammation and reaching between the teeth and gums.
Final Notes on Electric Toothbrushes
Manufacturers of electric toothbrushes design their devices for instant gratification. They know that customers judge a product after their first time using it, and evaluate the product by how their teeth feel after brushing.
Most electric toothbrushes will instantly remove the pellicle, and there will be a smooth feeling on your teeth. While this is good, it's not the only thing one should take into account when picking a toothbrush.
Toothbrush abrasion is bad for the enamel and gums, and good habits such as brushing frequently and replacing the toothbrush head will be far better for your teeth than buying a top-of-the line electric toothbrush.
The best electric toothbrush is the one that you love to use, use consistently, and allows or promotes the proper technique. The toothbrush alone won't make a difference if the head is not changed often and if the head is too big for hard-to-reach areas of the mouth.
As brushing becomes a routine habit, one of simple muscle memory, we tend to multitask while brushing; i.e. checking our email on a smartphone or performing a chore outside of the bathroom. The automation of an electric toothbrush can help us in this case.
However, the bells and whistles of an electric toothbrush such as bluetooth connectivity, or various settings such as "whitening" or "sensitive" may ultimately distract from proper habits and technique. Ultimately, an electric toothbrush should lead to better oral health with less effort and vibratory and oscillatory movement on your part.
Whether you have been using an electric toothbrush for years and need a replacement, or thinking of picking one up for the first time, The Oral B vitality is the one I currently recommend.
Got more questions about electric toothbrushes? Ask me!
Learn More:

Electric vs. Regular: Which Toothbrush Is Better?
References

Yaacob, M., Worthington, H. V., Deacon, S. A., Deery, C., Walmsley, A. D., Robinson, P. G., & Glenny, A. M. (2014). Powered versus manual toothbrushing for oral health. Cochrane Database of Systematic Reviews, (6). Full text: https://www.cochranelibrary.com/cdsr/doi/10.1002/14651858.CD002281.pub3/full
Deery, C., Heanue, M., Deacon, S., Robinson, P. G., Walmsley, A. D., Worthington, H., … & Glenny, A. M. (2004). The effectiveness of manual versus powered toothbrushes for dental health: a systematic review. Journal of Dentistry, 32(3), 197-211. Abstract: https://www.sciencedirect.com/science/article/pii/S0300571203002112
Carter, K., Landini, G., & Walmsley, A. D. (2007). Influence of compressive and deflective force on powered toothbrush filaments. Quintessence International, 38(5). Abstract: https://www.ncbi.nlm.nih.gov/pubmed/17568831