Does this sound familiar?
My 3-year-old just got a very bad report from the dentist. Eight cavities. I just couldn't believe it.
Ever since grad school, I've started getting cavities all of a sudden. No idea why, it's not like I stopped flossing or brushing.
I just came from my dentist and the tooth that was giving me problems has a huge hole all the way to the nerve. Please, please don't let this turn into a root canal.
---
Every time my readers email me a story just like these, I ask them:
What did your dentist recommend to prevent this from happening again?
Almost always, the response is: "brush and floss more." How many times can we be told to "brush and floss more" before we realize that it's clearly not working?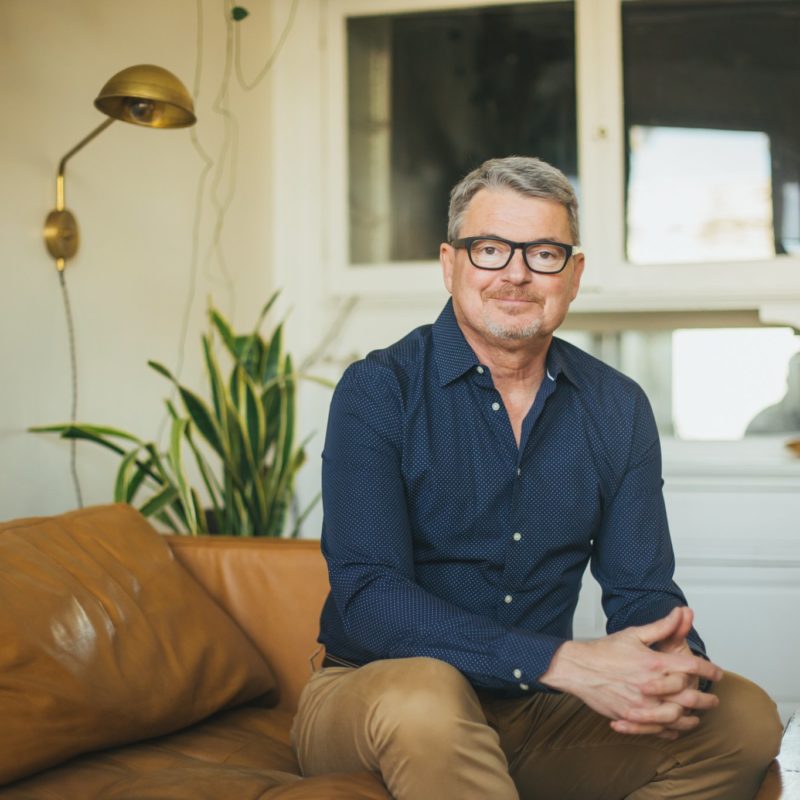 Submit Your Question
Dr. B loves answering your questions. Record a voicemail for your chance to have it answered in a future episode.
---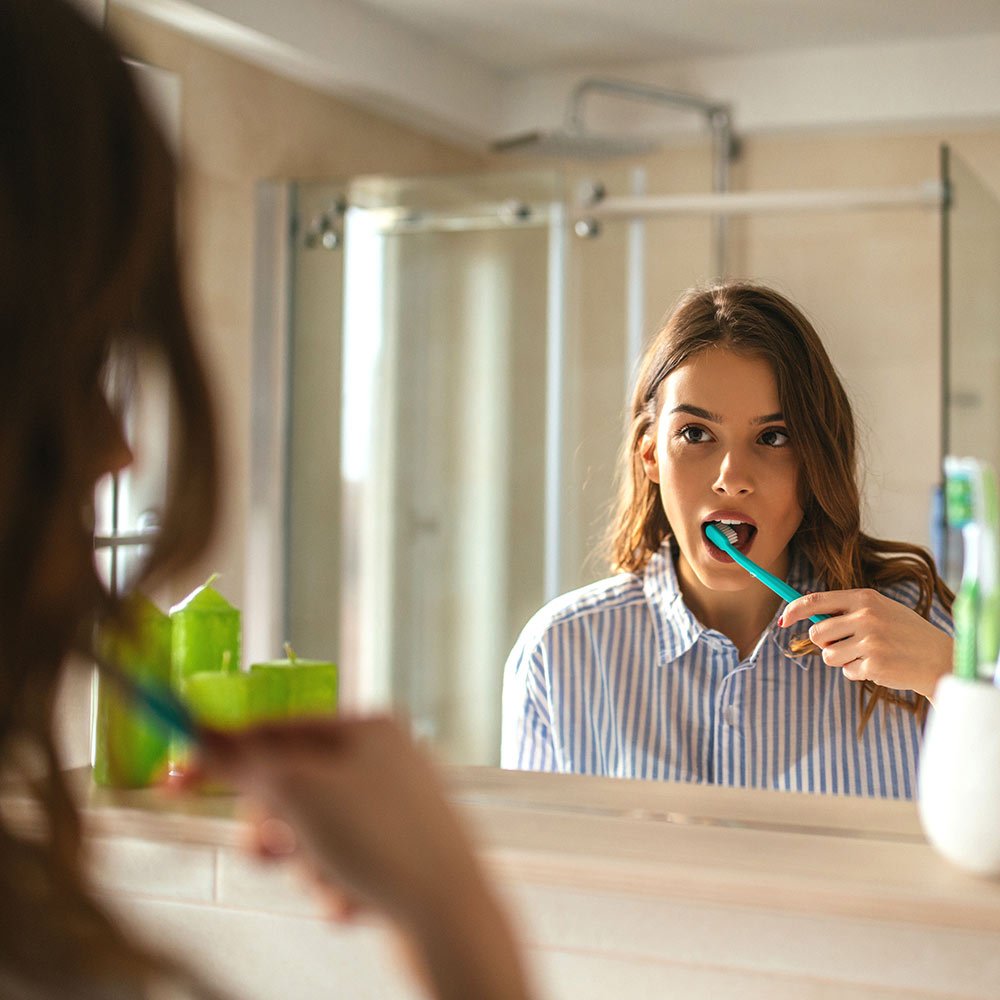 Brushing and flossing has (almost) nothing to do with it…
So, is "brush and floss more" really the appropriate response to this epidemic?
Or could this be perhaps a symptom of dentists graduating from dental school taught to "drill, fill, and bill"?
I've generally been a skeptic my whole life. My friends in dental school nicknamed me "Mr. Consumer Reports" because I was obsessed with combing through the research. Whether it was to find the best stereo for the money, or—as I got older—the best way to protect a child in a car crash, I always researched the best methods for…well, everything.
My obsession with research was no different when it came to dentistry, especially as I started getting cavities myself.
The more I dug into the research, the more it startled me: we KNOW how to prevent cavities. It's right there in the dental and medical scientific journals. It's not rocket science.
---
There's this totally backwards notion out there that cavities are just a normal part of existence.
Holes in other parts of your body are definitely not considered normal. Why would the mouth be different?
The mouth is connected to everything else in your body. The oral microbiome is the headwater to the gut microbiome.
In fact, the bacteria and entire environment inside the mouth are connected to the rest of your body so intimately that the state of your dental health influences your risk factors for heart disease, Alzheimer's, and diabetes. As a young dentist just starting out at a large corporate dental chain (which I won't name here), I was taught that billing for education to prevent disease is far less profitable than billing to drill. (Doesn't that explain every problem with modern medicine today?!)
But I don't believe in this model. I believe in educating my patients, and I always have. I don't view my job as just doing great dentistry—if I'm not educating my patients and empowering them, then I'm not doing my job.

---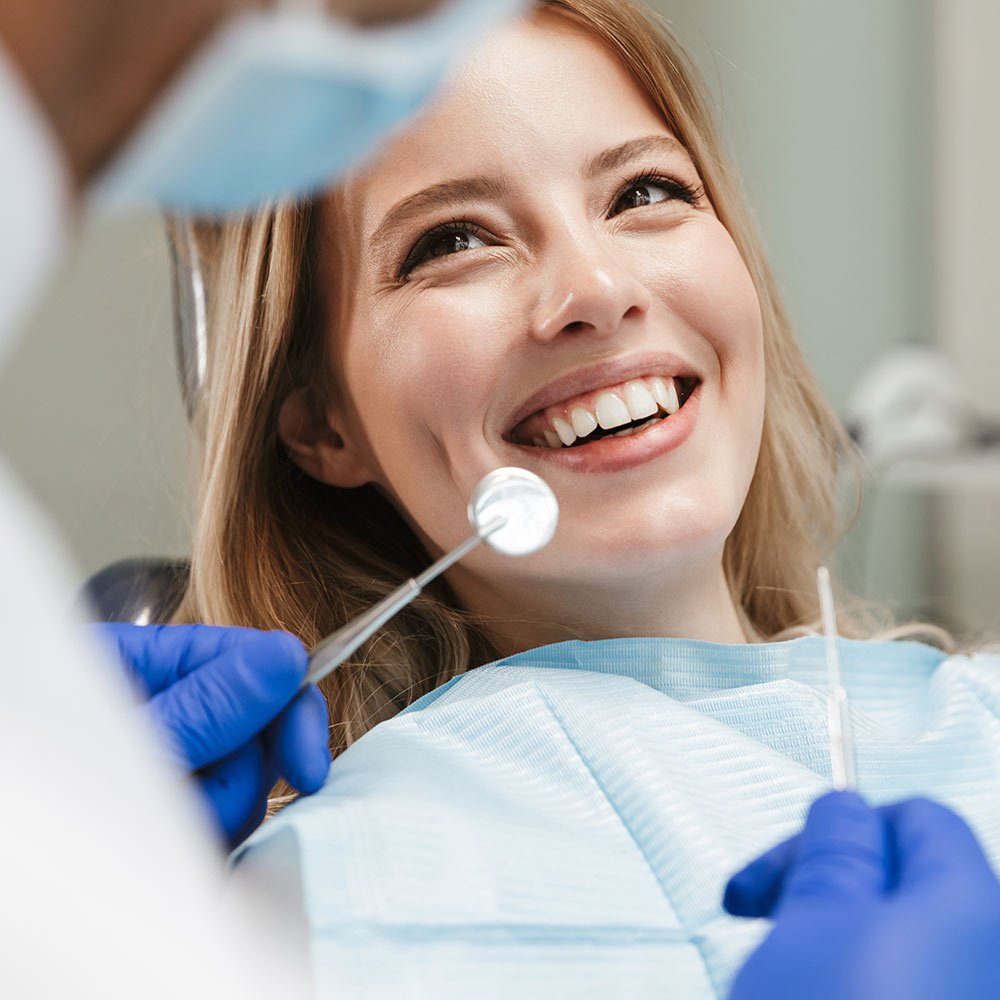 It doesn't matter what mistakes you've made in the past, or what you didn't know about optimizing oral and dental health.
Everyone has the power to keep their teeth in great shape and heal their cavities.
Consider the alternative.
There's plenty of information online about healing cavities based on old and unscientific conspiracy theories. (Drink raw blood to prevent cavities! Eat fish heads! Yes, those are actual recommendations you'll find in a book on Amazon about reversing cavities. Needless to say, there are quite a few disgruntled people who want their money back in the reviews.)
A filling will set you back $50 to $150 for each tooth, not to mention it means more maintenance, filling replacements later, and the added risk of toxic filling materials.
And if you're thinking, "I'll do it later. Next year, perhaps?" When you have more time or after life gets a little less busy, remember this: The patients who sit in my dental chair for fillings and root canals are always very busy. They always wish desperately that they'd had this information sooner.
Before you spend thousands of dollars, shouldn't you try something different?
If you want to prevent dental work by learning what to do NOW, read on.
What's Included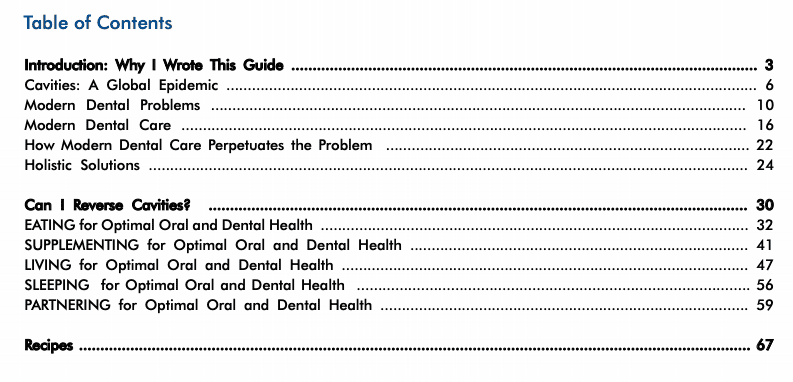 No expensive, hard-to-find "superfoods"—just simple, daily lifestyle changes that any regular person can make.
I didn't write a book—I wrote a short guide for people who are short and time and just need to know what to do to start getting results. If you want to read a long book on the science of dental caries, this isn't for you.
You have a full-time job, whether in the office or at home. So, NO, I'm not going to ask you to make homemade bone broth. But I AM going to ask you to take a hard look at your daily habits.
This guide is for YOU if…
You're ready to make practical, everyday habit changes
You're sick of the never-ending cycle of drill, fill, and bill
You're ready to show up at your next dentist appointment with a good report for a change
This guide is NOT for you if…
You want all the nitty-gritty science. My guide is just the need-to-know so you can end the cavities cycle and get back to your life.
You want a no-effort solution to reversing cavities (aka, "Just give me a pill")
This guide is written for the busy parent who just needs to know the need-to-know and get back to work. This guide is for the student already staying up late studying, who can't figure out why she's getting cavities all of a sudden, and needs a solution NOW. It's for the aging person who's tired of spending hundreds of dollars on fillings, year after year.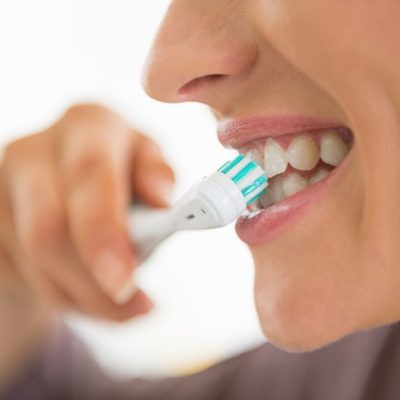 What is the most chronic disease in the world?
It's cavities!
Consider…
of adults over age 20 have some degree of tooth decay
of 5- to 9-year-old children in the US have at least one cavity or restoration, like a filling or a root canal and a crown
If you have children, this means that at least one out of two will develop a cavity before they've entered the 4th grade. As a father of three myself, I don't love these odds.
Our 100% Money-Back Guarantee Maybe you're not sure if this will work for you. Maybeyou're worried it's all going to be information you'veread elsewhere.
Go ahead and see for yourself. Buy my guide, implementthe evidence-based, practical daily tips. If you don't get astellar report at your next dentist appointment, we will refund your money.
Why am I doing this? Because I've seen this information work, firsthand, in over35 years as a dentist in my private practice. As a dentist in Sunnyvale, California—next door to some of the world's most famous companies (and stressed out employees) I've seen it all:
The student who's staying up late studying and can't figure out why she's getting more cavities all of a sudden
The tech employee who's too busy to change his whole lifestyle, much less stop his busy day for yet another filling
The mother with the telltale white spots of fluorosis on her teeth, who wants to do it differently for her child
Does modern dentistry have all the answers? I've been practicing long enough to say, no, we don't. You can't just "get a filling" and move on. That filling is a commitment for the rest of your life—it must be maintained and monitored so it doesn't spread. No fillings last forever, so if you're young when it happens, you'll need to replace it later.
That's why it's so much more meaningful to me to save a tooth than to replace it.
Being someone who gets cavities is a harder life.
Don't show up to your next dentist appointment just to get the same bad news.
Don't let your kids suffer a lifetime of dental work.
You want to have control of your dental health, and your smile!
Check out what my readers have said
This guide was worth the money…The questions to ask dentists was helpful to me at my most recent appointment. I think the section on supplements was most helpful – had not thought of supplements helping your oral microbiome and teeth health. I like that all the section gave practical how to takeaways that could be easily adopted and applied.

Brad
Thanks for a brilliant guide! We are implementing the diet guidelines and are awaiting the supplements.

KATHRYN
---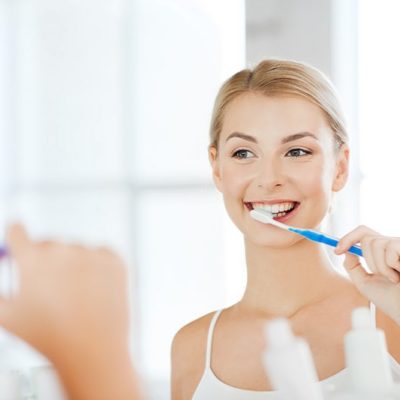 Compare Dr. B's cavities guide to…
A lifetime of fillings: cost $5,000
For your family: cost $20,000
Of course, there is one other option: doing nothing. It's the most expensive of all. You already know that a simple filling costs $200-300. People who never get cavities have learned how to prevent them…not to mention benefit from preventing Alzheimer's, heart disease, and diabetes.
Ready to stop being "one of those people with terrible teeth"?
Dr. B's Cavities Guide is science-backed, tested, affordable, and proven to work. And if it doesn't? Unlike a filling, it offers a full, 100% money-back guarantee.