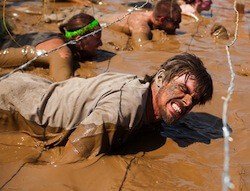 [question]I have a question regarding dental implants. I have two implants for my front teeth (baseball injury) that were put in back in around 2006. They are doing great.[/question]
I've registered for a Tough Mudder event in June, and while physically I'm not that worried about completing it, I am worried about the two electrical obstacles.
Will I be fine exposing myself to electric shock during Tough Mudder with the dental implants?
Thanks!
– Matt H.
[answer] Matt,
This is actually a really good question. The Tough Mudder organization's warnings about having internal metal in your body are referring to plates or screws that are steel, which will conduct more electricity and give you a shock. Titanium dental implants don't conduct electricity anywhere near what these metal plates — for broken bones, for example — do. [/answer]
I wouldn't worry about the dental implants– I'd worry more about falling down and smashing and breaking those implants.
Good luck in the competition!
Dr. B