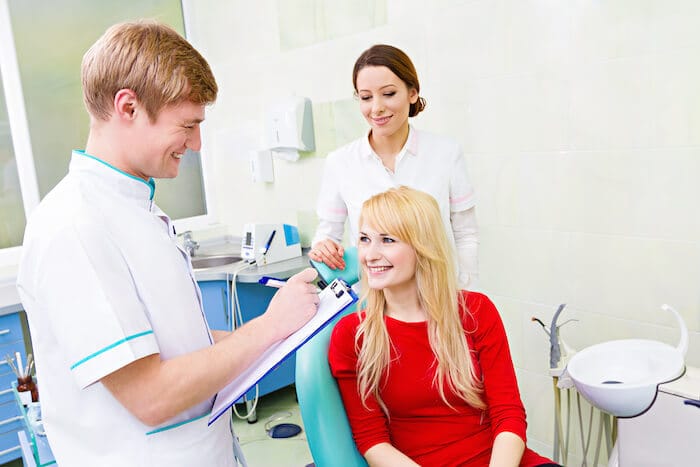 Manners Question: I had the first appointment for a crown yesterday. For the better part of the appointment, the assistant would engage in conversation with other assistants while in the room with me. Even worse, during the actual procedure, with dental tools drilling away in my mouth, she and the doctor continued to talk and share jokes over my head about their after-work plans. Also, the doctor did not even greet me when he entered the room; he just started working on my tooth. Is this acceptable behavior?
Answer: This is a great question and deals with a topic close to my heart; respect for the human body.
Let me begin with an experience I had early in my career.
I was working for a very successful and established dentist in the area. One day while I was in the operatory, the dentist took a phone call from his stockbroker.
He had his assistant hold the phone to his ear while he continued to work on the patient all the while making a stock trade.
I was shocked, and even more so once I realized it was a routine in this office. Thankfully, I have never seen that kind of behavior again.
In our office it's our policy to keep things patient-centric.
We don't talk about ourselves and we direct our attention toward the patient.
Talking over the patient about unrelated things when the patient is not able to be part of the conversation demonstrates a lack of focus and attention.
Yes, some of us can multitask quite well.
But when a doctor cuts open the body, there should be a certain degree of respect for the person under the knife as well as for the act of doing such a thing.
Being cavalier while doing this act can lead to the feeling that it is casual action.
There is nothing casual about operating on the human body.
Now of course, there are patients that want the diversion of conversation as it distracts them. This type of conversation is still patient-centric, however, and perhaps involves humor.
Making a stock trade while working on your patient is not only the height of rudeness, it's a demonstration of lack of regard for the patient and for the procedure on that patient.
The Latin root of the word patient is "long-suffering, capable of enduring".
Let's respect you for that! There's plenty of time for catching up with staff members after the patient is on their way home.
So to answer your question, yes, I agree with your thoughts and I'm glad you asked this question.
Make sure your dentist and staff is completely focused on you, your health, and your life.
Make sure they check in with you to see if you are experiencing any pain and that they're responsive to that pain.
Make sure they answer every question while looking you in the eye.
They should greet you warmly, like a friend or family member and they should say goodbye to you. Maybe even a phone call that evening if you "endured" a lot in the chair that day.
The headrest should be adjusted perfectly.
The temperature of the room should be perfect.
A clear and concise communication about what the vist is for (and why) should happen before any work starts.
A blow-by-blow rundown, although not for everyone, should be expected of what goes on during the procedure.
But if you know what your dentist or his staff members did last Saturday night, or what happened out on the golf course yesterday, then maybe it's time to find a new dentist.
And last but not least, I'll leave you with this Seinfeld clip of exactly what should NOT happen during your appointment:

Mark Burhenne DDS
What do you think is acceptable behavior during dental procedures? What do you expect in the dental chair? Join the discussion and leave a comment below.