After extensive personal use, I believe that the Goby toothbrush is one of the best electric toothbrushes on the market.
This oscillating toothbrush, which is similar in design to Oral-B models, is my current favorite toothbrush for anyone under 40 and/or those looking for a great toothbrush for whitening. It breaks up the pellicle, defined as that fuzzy feeling on your teeth from plaque buildup.
Each kit will run between $50-$80 on a subscription plan or $65-95 as a one-time purchase. Their subscription ensures you never forget to re-order toothbrush heads.
Let's look at the pros and cons of a Goby, plus how to know if it's right for you.
What is a Goby Toothbrush?
The Goby electric toothbrush is one of a few newer subscription brands on the toothbrush market that seek to provide stylish, direct-to-consumer dental care without the price tag of "legacy" brands like Sonicare or Oral-B.
It's a minimalistic, simple brush with one button, two settings, and a couple of great convenience features. The toothbrush head oscillates back and forth, rather than using a vibration like a sonic toothbrush.
Founders Claire Burke and Ben Goldberg started the company as a way to give people the chance for a beautiful toothbrush without the "overpriced" tag.
As a way to "make great oral care accessible to all," as their website puts it, Goby partners with NYU College of Dentistry's Global Student Outreach Program. With every brush purchase, money is donated to support dental services in the US and abroad.
One of my favorite things about Goby is the simplicity of their marketing. It's no-fuss, and that's just how I like things. Your toothbrush doesn't have to be complex or have six buttons to give you a proper clean.
It really emphasizes the underlying tone of their brand name:
Go. Be.
Goby Products + Cost
While many toothbrush manufacturers also offer additional products, Goby focuses strictly on getting you a great oscillatory brush and a new brush head every 1-3 months. No matter which brush style you pick, each head will be delivered to you for $6 and free shipping.


Goby offers three standard brush kits, plus several limited edition brushes that come out multiple times throughout the year (some examples pictured above).
Metallic Brush Kits [$80 sub/$95 one-time]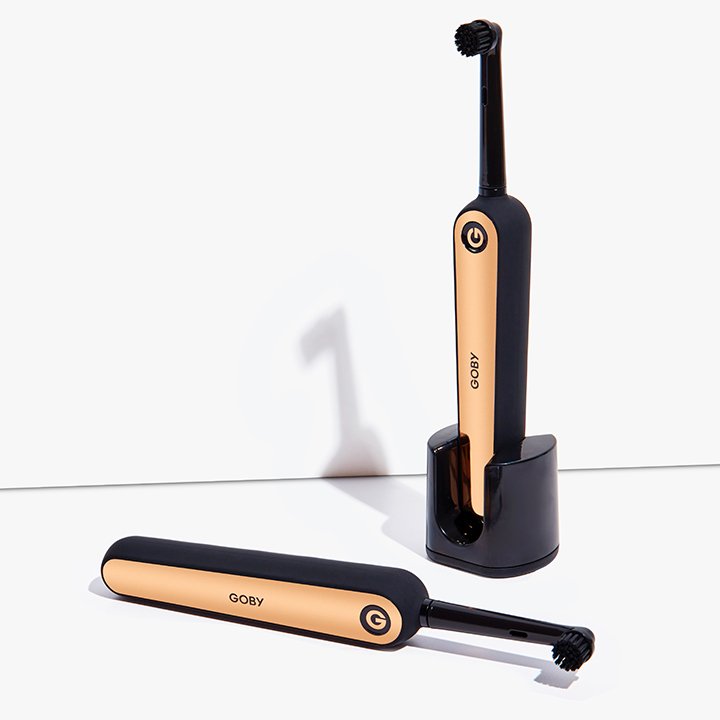 Available in a shiny gold finish, their metallic brush kits are Goby's "premium" offering.
Monochrome Brush Kits [$60 sub/$75 one-time]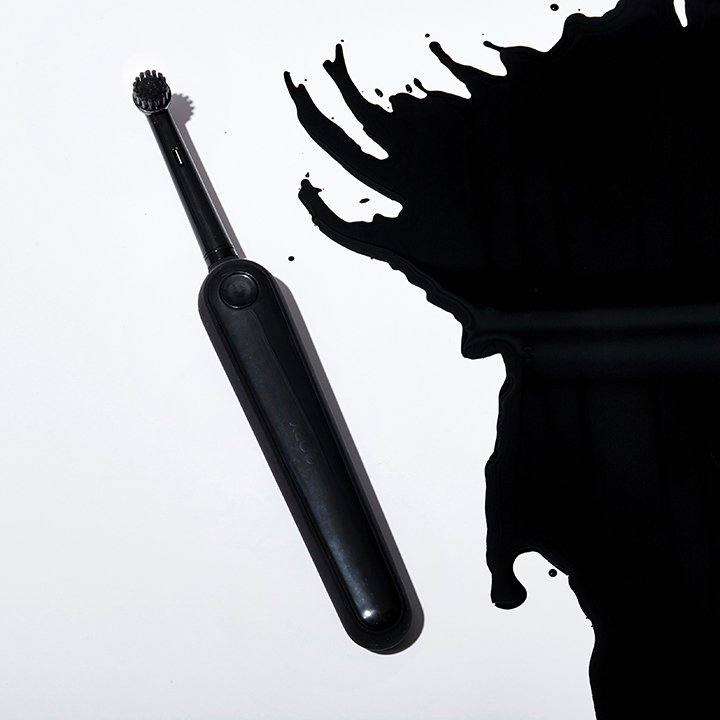 You can get one of these monochrome brushes in:
Classic Brush Kits [$50 sub/$65 one-time]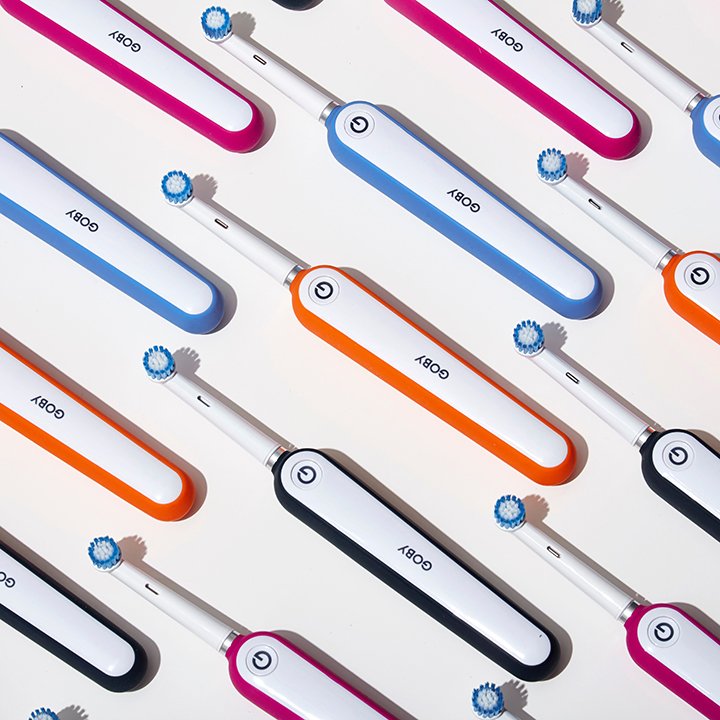 The plastic classic kits are where it all started. These are my favorite designs for kids and college students! They come in:
Midnight blue
Blue
Orange
In the Box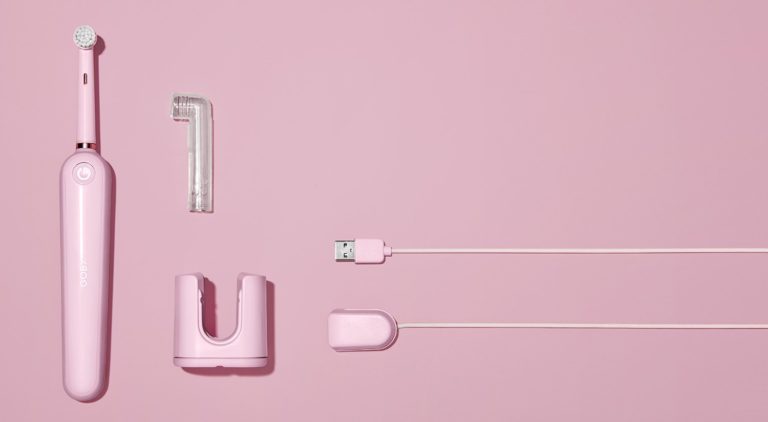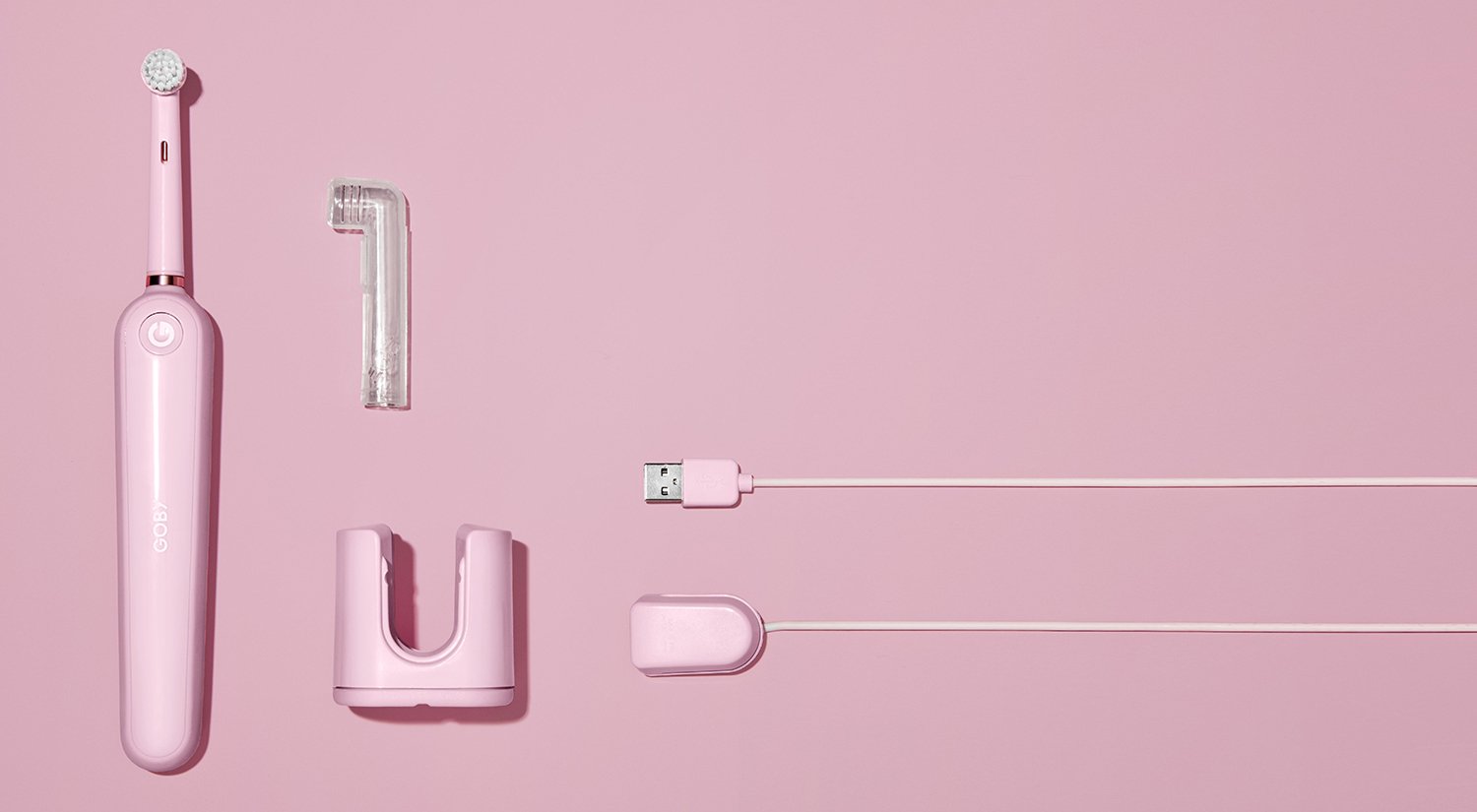 In your Goby box, you'll find just a few simple accessories;
1 Goby brush with attached round brush head (should have some charge upon arrival)
A matching plastic base that can be used with or without the charger for the brush to stand upright on your countertop
A charging cord with a wireless (induction) charger that can be used in or out of the base
A matching plastic wall brick to plug in the USB charging cord
A travel case to protect the head of the brush in luggage
Get Dr. B's Dental Health Tips
Free weekly dental health advice in your inbox, plus 10 Insider Secrets to Dental Care as a free download when you sign up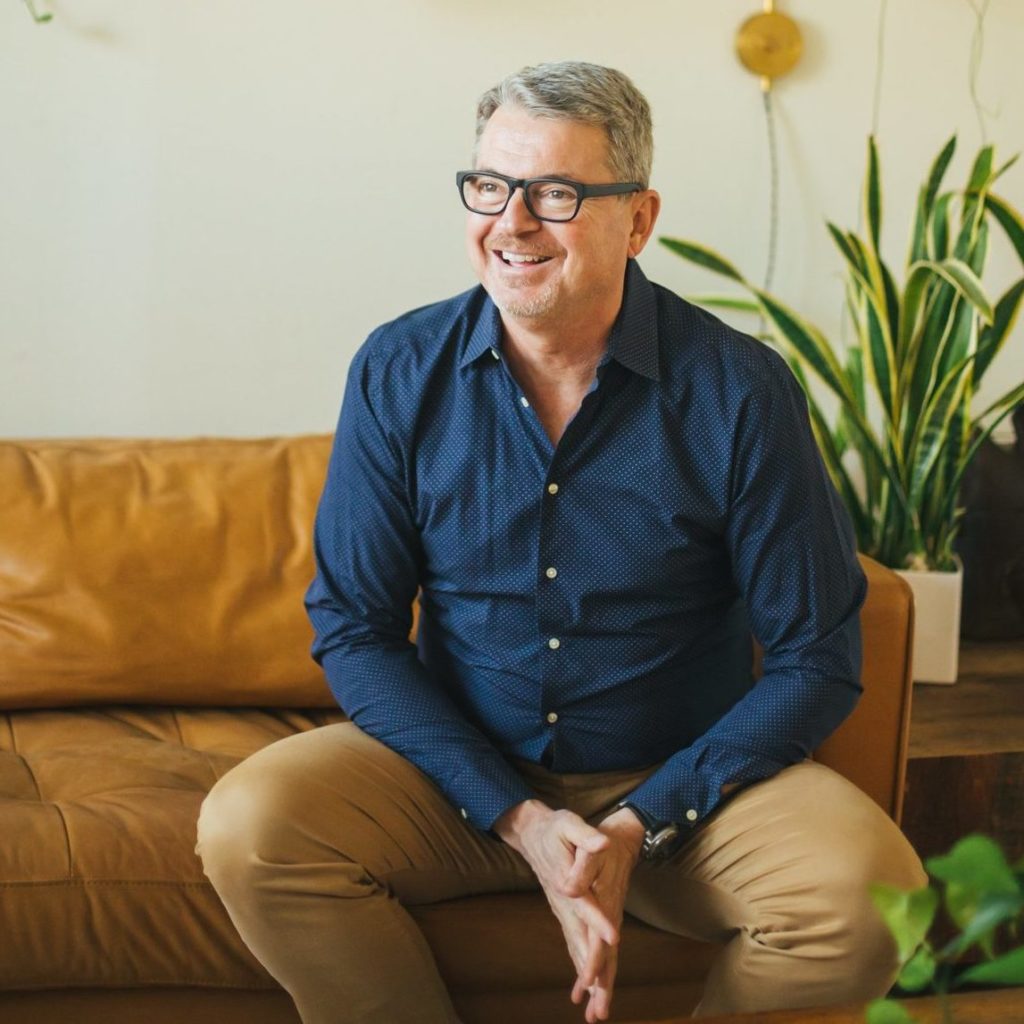 Features of the Goby Brush
There are a few ways it's easy to see Goby has thoughtfully created a brush with everything you need and nothing you don't.
The Goby electric toothbrush has a rechargeable battery with a 2-week battery life. This is shorter than some models that can go up to 4 weeks on a charge, but lines up with their oscillatory brush competitors. Oscillating brushes use more juice per use than a comparable sonic brush.
Each use features a 2-minute timer with 30-second pulses to remind you to move to the next quadrant. No need to worry about brushing long enough!
Just like I prefer, the Goby electric toothbrush utilizes just one brush head, and it's super soft. Medium and firm brush heads tend to scratch teeth, which can lead to more frequent cavities.
At the front of the base, there are 3 battery indicator lights that light up in green. When it's charging, you'll see a flash of one of the lights to show your progress. When you're done brushing, you'll be able to see the indicator lights for the charge you've got left.
Goby's oscillating brushes are prime for stain removal. While a toothbrush doesn't "whiten" your teeth, it sure can help remove some surface stains. I've found that an oscillating brush head does this more efficiently than sonic brands.
If you brush too hard, the pressure sensor will change the vibration so you know to back off. When it comes to the right way to brush your teeth, many people tend to dig the bristles into their teeth, which is totally unnecessary. Goby helps you keep it gentle.
Goby Toothbrush: Pros + Cons
The Good Stuff
There are many "pros" of owning a Goby toothbrush, including its direct-to-consumer purchasing model that saves you both time and money.
Here are my favorite things about owning a Goby:
They're direct-to-consumer. Unlike popular brushes like the Philips Sonicare or Oral-B Braun, Goby cuts out the middleman to give you a quality brush for the same you might pay for a "budget" version of another brand.
It's great for stain removal. Okay, I've said this multiple times, but the oscillatory brush is the best type of toothbrush for brighter teeth.
The brush head subscription helps you avoid too-old brush heads that lead to abrasions on teeth. Plus, you can choose how frequently you want—personally, I like once a month, but if that's not doable for you, every two or three months works fine, too.
Their brush head replacements are less expensive than Oral-B. I've used many Oral-B's over the years, and they do make a great brush. However, Goby's $6 new head replacement is less than what you'd pay for an Oral-B model (usually between $8-16).
My teeth feel clean. Most electric brushes will do a great job at polishing your teeth, and Goby is no exception.
They're fans of minimalism, like me. I love that there's one button, just two settings, and no unnecessary accessories.
They have a sensitive mode. The second press of the Goby's button will take you to a gentler cleaning mode. I think most electric toothbrushes are far stronger than necessary, so I like the gentle mode over the standard one.
The brush head isn't unnecessarily firm. All of my patients get similar advice: don't use anything but a soft brush head. With Goby, you don't have to wonder if that's what you're getting—there's just one option, and it's the right one.
With an obvious battery indicator, it's easy to know when to recharge. Many models don't show the battery life at the end of each brushing session, and I like that this one does.
Goby's the same type of brush that outperforms sonic brushes in plaque and gingivitis reduction. This 2018 study utilized Oral-B models, not Goby, but with an incredibly similar tech, it's safe to say that the oscillating brushes may do a bit better protecting your oral health.
The brush handle is made from a great material for a solid grip. The soft rubber feels great to hold and it's not easy to drop.
View this post on Instagram
Cons of the Goby
In my opinion, there aren't many cons of Goby toothbrushes. However, there are a few things it doesn't offer that may change your mind about this brush.
You can't buy it on Amazon. As much as I love the convenience of it, this brush isn't going to come with free 2-day shipping with the rest of your Amazon shipments.
It's not going to work as well as a sonic brush if you struggle with receding gums. In my experience with patients, only the sonic vibrations of that type of brush really remove plaque from the open pockets left by receding gums.
It doesn't have a proven track record. Although I love supporting start-ups, some people prefer to choose a brand that's older and more established to avoid stock, delivery, or quality issues. (For what it's worth, I've been using a Goby off and on for almost two years and getting regular replacements without any hiccups.)
You can't get replacement brush heads just anywhere. Unlike other, more readily available brands, you can only replace Goby's heads with new Goby heads they ship. It's not something you can pick up easily at your local drugstore.
It doesn't come with a toothpaste. Although that means you can simply pick a great toothpaste like RiseWell's hydroxyapatite toothpaste, getting a brush with toothpaste together is a plus for many people.
Their pack doesn't come with a manual toothbrush. Some brands include a manual brush with their electric version, but that's not the case with Goby.
Should you get a Goby? (Plus, a Discount Code)
At the end of the day, the right toothbrush for you is the one you'll pick up and use. Your dental health depends on it. Whether that's a Goby or a $3 manual toothbrush from Walgreens, it's important you figure out what works for you.
I appreciate the mission of Goby and the customer-centric approach they take. I also think it's an excellent toothbrush and I enjoy using it regularly.
Its oscillatory motion removes stains better than sonic motion toothbrushes, and it's still great at plaque removal.
The subscription service allows you to receive replacement heads at the interval of your choice, without you having to remember to order.
Their company provides follow-up education and adds a personal touch.
For anyone under 40, or who's focus is on stain removal, the Goby electric toothbrush is my top recommendation.
Looking for a brush to help with receding gums? My favorite sonic brushes are the Boka toothbrush and the Philips Sonicare DiamondClean 9500.
Learn More:

Goby, Boka, or Quip? A Dentist Reviews and Compares